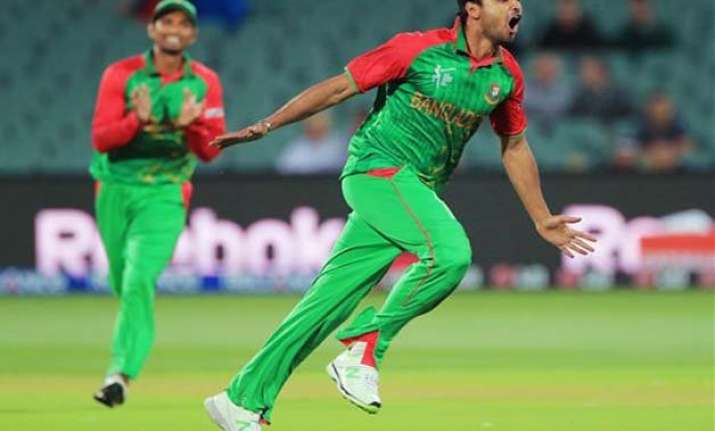 Melbourne: Wary of the damage that India's in-form top-order batting can cause, Bangladesh cricket captain Mashrafe Mortaza on Wednesday said he does not know what would be a good score if his team bats first in the World Cup quarter-final against the defending champions here on Thursday.
"I don't know what's a good target, that can be set for this Indian team, as they have one of the best batting line-ups in world. It is very difficult for me to predict. India are good at chasing down totals," the Bangladesh skipper's apprehension was palpable during the press conference on the eve of the quarter-final.
"Hope we can play overall good cricket as then we can even defend a target of 270-280," he said.
Bangladesh's skipper and pace spearhead has a lot of reverence for his opposite number as he termed Dhoni as a genuine match-winner.
"Dhoni is a tremendous player and a genuine match-winner. As an ODI batsman, he's done everything he can for India in the last five or six years, maybe even more than that. Virat Kohli is also there. But overall I think Indian batting is the best in the world, so it will be a challenge for us," the skipper conceded.
Mortaza, however, tried to put up a brave face considering the challenge that the team will encounter in a formidable opposition like India.
The majority of crowd will be in India's favour, they know the conditions well having been here for more than three months. But Mortaza said that "cricket is played on the ground and not theoretically."
"Clearly India are ahead of us if these are factors are taken into account but you don't fight on field thinking about these external factors. Cricket is not lip-service as you need to perform on the field. Yes, overall the Indian team is ahead of us but if we ought to have a good match then we have to play well," said Mortaza, who has 189 wickets from 146 matches.
The soft-spoken Mortaza didn't want to dwell too much on his match-winning performance of 4/38 against India at Port of Spain eight years ago during the 2007 World Cup.
"Yeah, that was a long time ago, I think, eight years back. It's a happy memory but you don't want to look back now. We have to focus on the present. We have some good young players in our team, and they're performing throughout this tournament. So hopefully they can come up tomorrow in the middle and deliver their best," he said.