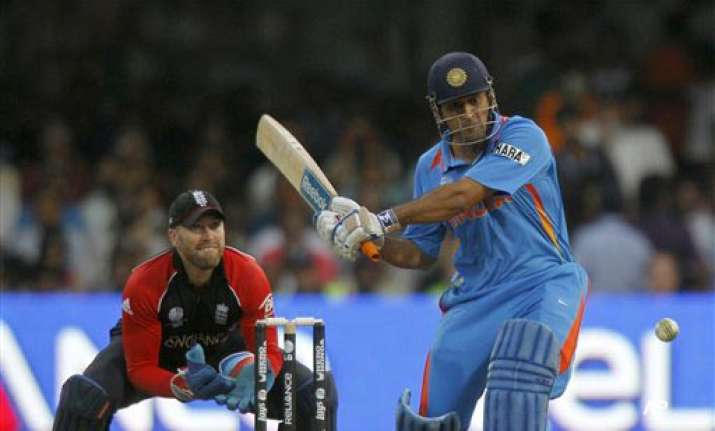 Bangalore, Feb 28 :  Miffed with the controversial Umpire Decision Review System and his team's fielding, Indian cricket captain Mahendra Singh Dhoni said he was left with mixed feelings after the thrilling tie against England in a Group B World Cup match here.
"Adulteration of technology with human thinking is bad.That's why we didn't get that wicket. Hopefully, next time it will be either technology or human intention," Dhoni said last night referring to England batsman Ian Bell's close shave.
Bell was ruled not out by on-field umpire Billy Bowden as well as the third umpire despite TV replays clearly showing the ball hitting the stumps, at the Chinnaswamy Stadium here.
When Yuvraj Singh struck Bell on the pads with the final ball of the 26th over, Bell was on 17. He later went on to score 69, thanks partly to the DRS that went in his favour.
"If the Hawkeye says it's going to hit the stumps, then there is no reason (why an appeal should be turned down)."Riding on Sachin Tendulkar's record fifth World Cup ton,India piled up a mammoth 338, but despite setting a stiff asking rate, they nearly gave it all away last night.
Dhoni hoped the tie would help his team realise the importance of fielding."With this tie everyone in the team will realise that even one run can be important. India has many strenghths but fielding is not one of them," he said.
"We cannot improve the fielding. There are some slow fielders. But we have got the talent to improve the bowling,"Dhoni said when reminded about India's fielding and bowling.
Asked about the penultimate over that nearly paved the way for an England win, Dhoni said he had no other option but to bring in Piyush Chawla."There were not many options. Viru (Virender Sehwag) didn't bowl, and Yuvraj was there. But I would have always preferred to go with a specialist bowler," Dhoni said after Andrew Strauss' magnificent 158-run knock nearly gave England a historic win.
"Yuvraj always loves to bowl but that was a crucial juncture, and Chawla has the wrong one which was needed at that time," he added.Graeme Swann and Tim Bresnan plundered 15 runs in the penultimate over off Chawla to bring England within sniffing distance of a win.
"I am not disappointed, not excited. I have got mixed feelings. There were times when we could have lost, and times when we could have won the match," Dhoni summed up his mood.
"It was a thrilling match because both the teams were facing defeat or victory at some point. All credit to England for the way they batted," he added.Asked about his frequent interactions with Sehwag during the England innings, Dhoni said he was thinking about taking the best decisions for the team.
"There are quite a few decisions you have to make. We have some experienced guys and we are always trying to make the best decisions for the team," he said.
"I always let the fast bowlers set the field when they are bowling. It's only when they don't work I set my own."Questioned about Chawla's inclusion in the playing XI,Dhoni said he was not sure whether three seamers would have done the job for the team.
On pacer Ashish Nehra's fitness status, Dhoni said he wants the bowler to be 100 per cent fit. "You can't predict the performance of a bowler or a batsman if he is not playing. He has been bowling well for us but he needs to be 100 per cent fit." PTI