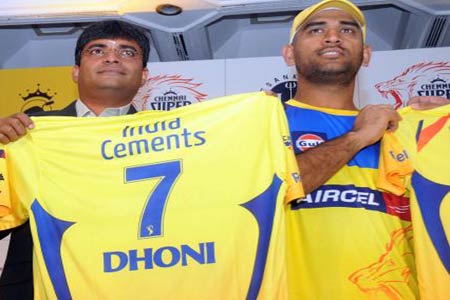 Mumbai, apr 7 : Chennai Super Kings captain Mahendra Singh Dhoni, who is the highest earning cricketer in the world, is the highest  insured player at Rs 34 crore  for the forthcoming Indian Premier League T20 tournament which begins on April 8, reports Times of India. 

An insurance firm official confirmed that the Indian captain, who led CSK to victory in IPL 3, has been insured for Rs 34 crore by the Oriental Insurance Company (OIC)-a rise of Rs 24 crore over his insurance cover for IPL 3.CSK has paid a premium of Rs 16 lakh, which includes travel risk cover, including medical emergencies, personal accident and loss of baggage. 

Suresh Raina, retained by CSK, will get an insurance cover of Rs 20.5 crore. Incidentally, little master Sachin Tendulkar, who will play for Mukesh Ambani's Mumbai Indians for the fourth consecutive season, has an insurance cover of only Rs 12 crore. Mahela Jayawardene, the skipper of Kochi Tuskers Kerala, has been insured for Rs 20.5 crore.

"He seems to be most highly insured overseas player for the tournament," said a source, adding, "Speedster Dale Steyn from South Africa, who will be playing for Deccan Chargers, has been insured for Rs 16 crore." According to a source from the insurance industry, every insurance company and IPL team have a different methodology of finalizing an insurance policy.

"For example, Ambani has decided to take comprehensive cover for his team, which includes event cancellation cover, workmen's compensation, personal accident cover, medical cover and so on," he said."For this, he is likely to shell out a premium of around Rs 1.5 crore to the National Insurance Company."

The cover will be active till the time the final is played on May 28.The policy can be invoked in the event of the death of a player or total disability, permanent partial disability or temporary total disability.The policy holder will be paid compensation for injuries that are sustained on and off the field during the duration of the tournament.

One of the rules of IPL is that even if the player is benched due to a disability, he has to be paid his dues by the franchisee. The cover is being taken by the franchisee to cover his or her financial interest.Many owners are still in the process of finalizing the insurance cover for their team.

"Most of the franchise representatives involved in the insurance negotiations don't understand the trade and there's a lot of confusion," said a source. "Hence the delay in finalizing the insurance policy for many of the teams." 

The official added that many franchise owners seemed to be keen to save money on premium. "However, they do not realize that most of the rates for such risky policies are based on those quoted by reinsures like Llyods of London. Hence, many teams are taking only partial cover to save money on premium, which is a bit risky," he said.

Leander Dias, insurance official from OIC, who is an expert on cricket-related policy, is negotiating with several franchises but refused to comment on the developments.

Incidentally, for the recently held ICC World Cup, the Board of Control for Cricket in India ( BCCI) bought a group personal accident policy from OIC. Each player can expect a financial benefit up to Rs. 2.3 crore under this policy.