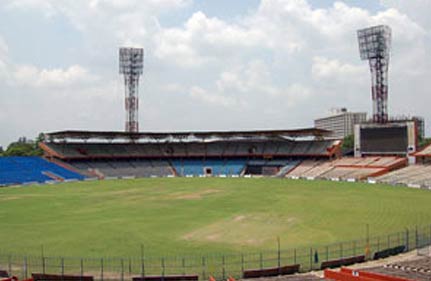 Guangzhou: The Ferozeshah Kotla ground in the Indian capital of New Delhi was re-instated as an international cricket venue on Tuesday after a pitch fiasco last December.  
The International Cricket Council had suspended the Kotla from hosting Test and one-day matches after poor pitch conditions had forced a one-dayer against Sri Lanka to be abandoned on December 27.  
The ICC said the Kotla was fit to hold matches again, including four fixtures of the World Cup next February-March, after the newly-laid wickets were inspected by its pitch consultant Andy Atkinson.  
"We are pleased with the remedial work carried out." said ICC general manager (cricket) David Richardson, a former South African wicket-keeper.  
"With the playing surfaces now back to the standard expected for international matches, the Ferozshah Kotla stadium will be re-instated as an international venue from January 1, 2011."  
The one-dayer in December was called off after 23.3 overs due to what match referee Alan Hurst said was a "dangerous" wicket as the ball rose alarmingly after pitching or kept low.  
The Kotla has been holding domestic matches since last month. AFP