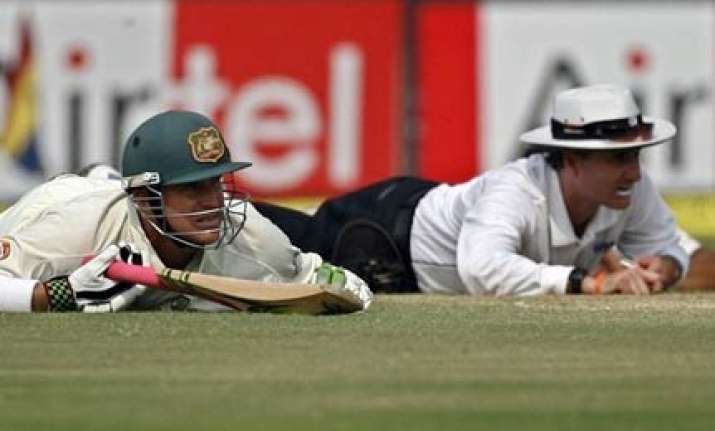 New Zealand umpire Billy Bowden's advice helped Mathew Hayden escape axe from the Australian team and resurrected his batting form.
Hayden, who was cricket's most dominating and imposing batsman, had a little help that no one knew about, because he also had the umpires on his side.
In his new book "Standing My Ground" Hayden reveals how he went out of his way to befriend some of the world's best umpires and they often helped him during important moments of Tests.
Hayden sought Billy Bowden's help when he was stuck in horrible form during the 2005 Ashes in England and was facing the axe if he didn't score big in the fifth Test.
During the Test, Bowden provided some key advice that helped Hayden all the way to 138 that saved his Test career, News.com.au reports.
"Before my career-saving century against England at the Oval in 2005, New Zealand's Billy Bowden visited the nets and I approached him for advice," Hayden writes.
"I told him my goal was to try to tighten up in the Test. I felt I'd been expanding my attacking game too quickly, and I asked him to speak up if he thought so too. During the match I'd say to him, 'What do you reckon?' and he'd say, 'Looking real good, just stay patient.'
"I'd sometimes ask, Is he swinging that much? and he'd say, 'Oh, it's just starting to reverse. Billy was brilliant that week. He really helped me," Hayden writes.
"People might be surprised that I had conversations like this with umpires, but I never considered it insider trading. I used every resource I legally could to enhance my game, and umpires were part of that process," he adds.
Hayden says that he has great respect for Indian umpire Srinivas Venkataraghavan as he gave him invaluable tips about batting in India during the 1998 spin clinic.
"I had great respect for the man and his opinions, and would sometimes say to him, 'What about this field?' He'd say, 'They're obviously trying to make you hit across the line,' tutoring me at a vital stage of my career."