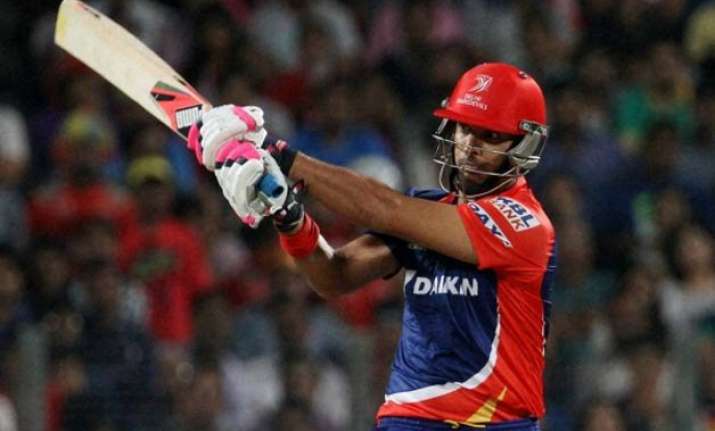 Mumbai: Two players, who were bought for big money at the Indian Premier League auction are struggling to justify the huge amount spent on them for the eighth edition of the hugely popular Twenty20 tournament.
India's 2011 World Cup winning hero Yuvraj Singh and discarded stumper Dinesh Karthik were the biggest buys in this year's auction but have toiled hard without much success in the opening third of the tournament.
Yuvraj - who was bought for Rs 16 crore by Delhi Daredevils - has managed 120 runs in five games with a top score of 54 that placed him in the 20th spot going into today's 21st game of the match tournament between Daredevils and Mumbai Indians.
Karthik, bought for Rs 10.5 crore by Royal Challengers Bangalore, has been a much bigger disappointment, having tallied a mere 43 runs in four games and was a lowly 50th in the batting order of merit after 20 games.
India's two main spinners in the ICC World Cup which was held in the Antipodes just prior to the IPL, Ravichandran Ashwin and Ravindra Jadeja, have also put up below par displays for Chennai Super Kings.
While Ashwin was 36th in the bowlers' list with only 2 wickets from 5 games, Jadeja was three rungs below with the same number of victims under his belt in an identical number of games.
In contrast to Ashwin are the excellent figures of his senior rival Harbhajan Singh who has grabbed eight wickets for Mumbai Indians and was lying sixth in the wicket takers' table.
Asish Nehra, a team member of India's 2011 World Cup winning squad along with Harbhajan and Ashwin, led the wicket takers' table with 10 victims to his credit wearing the colours of the Super Kings.