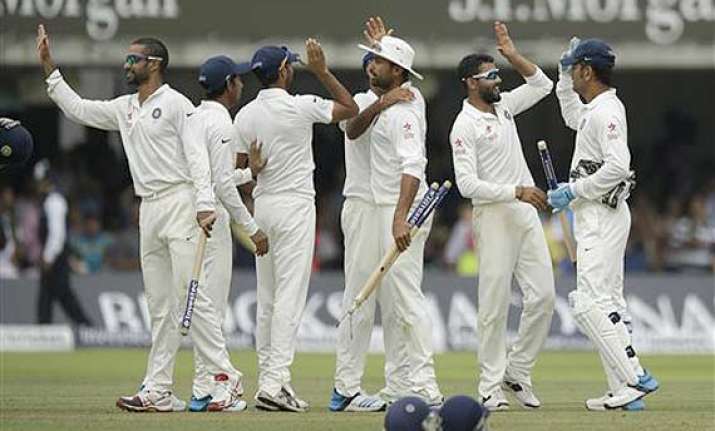 Mumbai:  The BCCI is expected to announce the full itinerary of a scheduled tour by West Indies later this year on July 26. "The Board's Tour Programme and Fixture Committee is to meet in Mumbai on Saturday to finalise the West Indies tour programme," BCCI sources told PTI.
The Committee is headed by Rajeev Shukla with G S Walia (North Zone), P Yadagiri (South), Sathya Mohanty (East), Nitin Dalal (West) and Mahendra Sharma (Central) as its other members and BCCI secretary Sanjay Patel as its convenor.     
West Indies are scheduled to play a three-Test and best-of-five ODI rubber between October 4 and November 18 after the completion of the Champions League T20 tournament which is scheduled to be held from September 14 and October 4, also in India.     
West Indies visited India last year too in a hastily arranged two-Test series as a farewell to Sachin Tendulkar who retired after playing his 200th Test against the Caribbean team at his home ground, Wankhede Stadium, here in November.     
The upcoming Windies visit is as per the previous Future Tours Programme of the International Cricket Council. Next year the new FTP, agreed upon by all full members of ICC at Melbourne last month, will kick in.     
In 2015-16, it would be the turn of South Africa to visit India to play three Tests and ODIs to be followed by England who would split their tour into two halves - playing the five Tests before the Christmas break and then the ODIs on their return in the early part of 2016.     
Meanwhile, the BCCI's Technical Committee, headed by Anil Kumble, is also set to meet here on Saturday, the sources added. The other members of this panel are: Krishnamoorthy Hooda (North Zone), M S K Prasad (South), Bimal Bharali (East), Vijay Naidu (Central), Ravi Deshmukh (West), Sandeep Patil (Chairman, Senior Selection Committee), Debasis Mohanthy (Former Test cricketer) and V K Ramaswamy (Former Test umpire) with BCCI secretary Patel as its convenor.