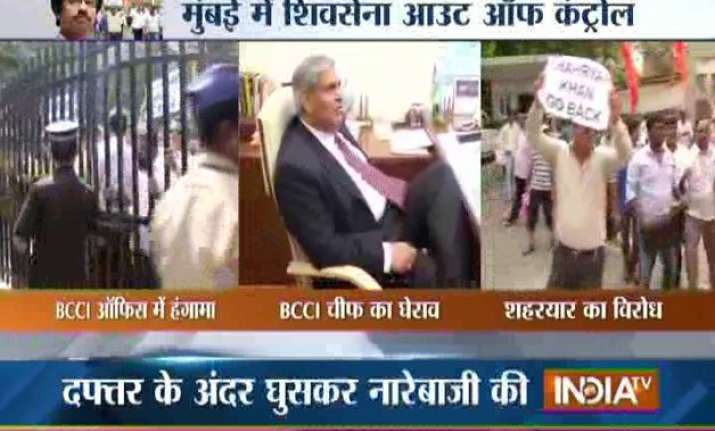 New Delhi: The much-anticipated talks between BCCI president Shashank Manohar and his Pakistan counterpart Shahryar Khan on the proposed bilateral series between the two countries have been rescheduled for Tuesday.
Senior board functionary Rajiv Shukla said that the dialogue between the two sides will not be stopped and that the two will hold talks with each other later in the day.
Tomorrow's meeting between the two will be held in Delhi, Shukla said, adding BCCI has never compromised with national interests.
The latest decision was taken after protest by Shiv Sena activists at the BCCI office in Mumbai.
The talk between Board of Control for Cricket in India (BCCI) and Pakistan Cricket Board (PCB) was slated to take place today but Shiv Sena workers forced the cricketing body to postpone the meeting.
Manohar had invited PCB chief for talks on the much-anticipated series scheduled in December.
Khan and PCB's executive committee head Najam Sethi are in the city for the meeting after discussing the planned series with BCCI secretary Anurag Thakur earlier on the sidelines of the ICC meeting in Dubai.
Thakur had assured him a final decision could be taken later this month and conveyed Manohar's invitation to visit India.
There is speculation that the two neighbours could play either a bilateral series in the UAE or agree to a possible triangular series in December also involving Bangladesh.
Meanwhile, condemning the attack on BCCI headquarters in Mumbai by Shiv Sena workers, ICC president Zaheer Abbas today said politics should never be mixed with sports.
"Politics and cricket are two different things. Pakistan is not asking India to play in Pakistan. Pakistan is asking for a bilateral series to be played at a neutral venue," he told TV channels here.
The ICC president said the entire cricketing world is waiting for an Indo-Pak series to take place.