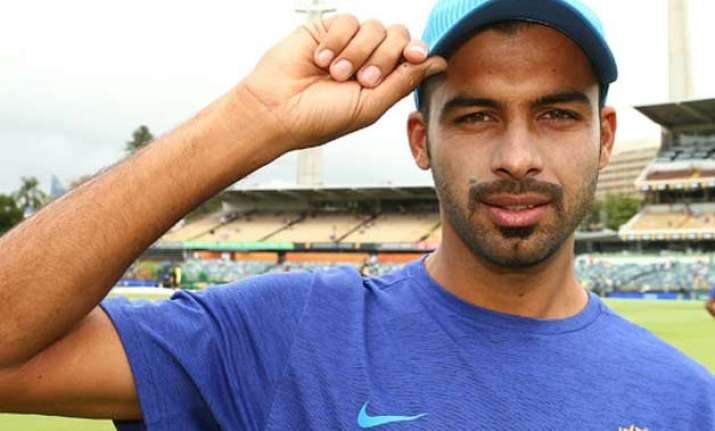 New Delhi: Barinder Balbirsingh Sran, a 23-year-old left-arm medium fast bowler, made his international debut against Australia today at the WACA ground in Perth.
 
He was a member of Rajasthan Royals in the 2015 Indian Premier League. He was also selected for the upcoming 30-member initial squad of World T20 2016 to be held in India.
 
Here are a few things you need to know of his journey until his selection in the Indian squad:
 
1. Barinder Sran was born on December 19, 1992, in Panniwala Morika   a village near Sirsa, Haryana, in an ordinary family. His father is a farmer.
 
2. In 2007, he went to Punjab to become a boxer and was training at the famous Bhiwani Bosing Club, home to Olympic medallist Vijender Singh.
 
3. He made his first class debut in a Group A Ranji Trophy game against Orissa on November 10, 2011. He impressed everyone by picking up 3 wickets in the first innings and four in the second in his debut.
 
4. Barinder's journey of cricket began from the Gatorade Speedster contest in Chandigarh, where he won the North India leg. This victory proved to be an opportunity for him as Punjab officials saw him perform and asked him to start practicing at the Mohali stadium.
 
5. He soon found himself getting trained at the ICC academy in Dubai after winning the India Under-19 leg of the speedster contest.
 
6. His performance in the Vijay Hazare Trophy was impressive as he picked up 14 wickets in six matches for Punjab.
 
7. Barinder was a 'net' bowler at the time of the 4-match series in November 2015 when India played against South Africa.
 
8. He told BCCI in an interview, ''If I get the opportunity to play against Australia, it would be a great experience for me to play in conditions like quick wickets with bounce which helps the pacers.''
 
9. He is inspired by the former pacers Wasim Akram and Zaheer Khan. "I started to watch Zak's bowling and Wasim Akram's videos a lot. I haven't had the chance to talk to Zak but I did have a brief conversation with Wasim sir for about 15-20 minutes," he told BCCI.
 
10. Debuted Barinder Sran provided India a good start by taking wickets of openers inside the first five over against Australia. Australian captain Steve Smith says that Barinder Sran has impressive variations in his bowling.