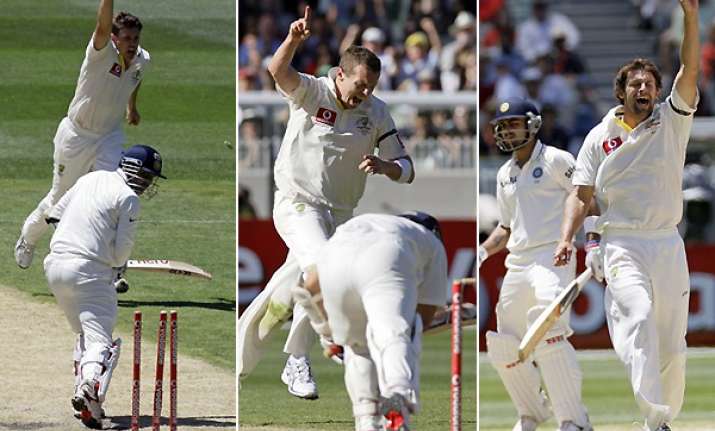 Melbourne, Dec 29: After two years of experimentation, disappointment and unfulfilled promise, Australia may finally have found a bowling lineup it can stick with.

Pace bowlers James Pattinson, Peter Siddle and Ben Hilfenhaus stamped their authority over one of cricket's most experienced batting lineups when Australia beat India by 122 runs on the fourth day of the first test Thursday.

Hilfenhaus, discarded after a dismal Ashes series, returned figures of 5-75 and 2-39 at the Melbourne Cricket Ground.

James Pattinson, in just his third test, had 2-55 and 4-53, along with some handy batting in a man of the match performance, while Peter Siddle showed new found consistency to dismiss Sachin Tendulkar in each innings and return 3-63 and 3-42.

"I've got to give full credit to our bowlers," Australia captain Michael Clarke said. "We all know how dangerous India's batting lineup is and for our bowlers to be able to restrict them in both innings, full credit to them."

With test regular's Ryan Harris and Mitchell Johnson injured, along with new sensation Pat Cummins, many viewed the bowling selection for Melbourne as a stop gap measure.

But the Australia pacemen showed little respect for veteran Indian batsmen like Tendulkar, Virender Sehwag, Gautam Gambhir and Rahul Dravid, dismissing India for 282 and just 169.

"We have to be at our best to beat India," Clarke said. "It has a lot of class players and it's batting order is as strong as any batting order in the world, so for our bowlers to have success, I think they deserve a lot of credit."

Australia was never going to find a ready replacement for spin great Shane Warne, but after almost three years Nathan Lyon has at least the economy to press for continued selection after figures of 0-66 and 1-25.

"I'm confident in Lyono. He's a wonderful talent," Clarke said. "He can hold up an end even if he's not taking wickets."

With Ryan nearing match fitness, Clarke and the selectors will have some serious deliberations ahead of the second test starting next week in Sydney.

"I've seen Ryano bowl in the nets the last few days and he looks pretty good," Clarke said. "I guess that's probably one of our bonuses at the moment. Our attack's bowling really well, and when you have guys like Ryano not too far away from being fully fit, I think it's a good problem to have."

And if the Sydney Cricket Ground pitch has something to offer spin bowlers, matters could be further complicated.

"We need to see the conditions and have the options if it is going to spin, we can talk about two spinners, we can talk about an allrounder, but if it has got grass on it like it did last year, we could play four fast bowlers.