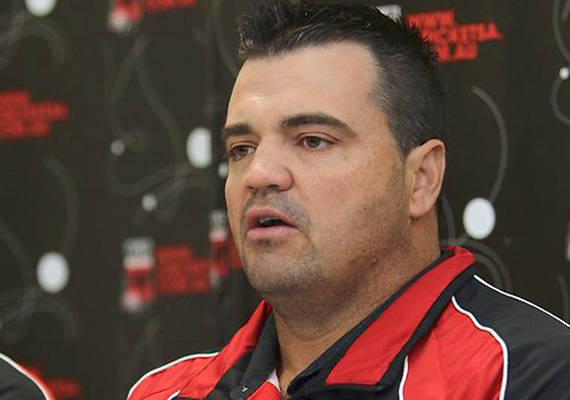 New Delhi, Feb 15: India has hired Australian Joe Dawes as its new bowling coach in an effort to revive the cricket team's fortunes after successive whitewashes in away test series.

"Joe Dawes has been appointed the bowling coach of the Indian team for a period of two years," Board of Control for Cricket in India's secretary Sanjay Jagdale said in a statement Tuesday. "He will replace Eric Simons, whose term ends at the completion of India's ongoing tour of Australia."

Simons was appointed in January 2010 on the recommendation of coach and fellow-South African Gary Kirsten, who helped India win last year's World Cup at home before returning home.

Dawes, 41, a pace bowler who took 285 wickets in 76 first-class matches with Queensland, has previously been the bowling coach Australian domestic sides the Queensland Bulls, South Australia Redbacks and Adelaide Strikers.

The decision to bring in Dawes was taken at a working committee meeting of the BCCI held in Chennai on Monday.

In other decisions taken during the meeting, the BCCI decided not to conduct an inquiry into the 4-0 test losses in England and Australia and also rejected key recommendations of the Woolf report on restructuring of the International Cricket Council.

"The working committee discussed all the main recommendations of the report submitted to the ICC by a committee headed by Lord Woolf," BCCI president Narainswamy Srinivasan told reporters in Chennai. "The working committee rejected these and was in particular not agreeable to the changes in the structure of the management of ICC that had been proposed."

The Woolf committee, which made an independent governance review that is not binding on the ICC, had earlier this month called for a restructuring of ICC's executive board that would be independent and not dominated by bigger countries.

It called for a revamping of the executive board with more rights for non-test playing countries and also suggested that an ICC director should not simultaneously hold a post with his home board as Srinivasan currently does.

Meanwhile, there was little headway regarding the board's problems with India team sponsor Sahara India, which also owns a team in the Indian Premier League.

Sahara has announced it will withdraw its sponsorship of the Indian team and will also give up its ownership of Sahara Pune Warriors as it felt the BCCI had not been flexible enough to help the Pune franchise develop a better team.

The BCCI reiterated during the Chennai meeting that no rules could be changed for Sahara, but that the team would be allowed a replacement for its star player Yuvraj Singh, who is being treated for cancer, and that Sahara was also free to bring in a partner in its franchise.

Sahara has said it may not field a team in the upcoming tournament from April 4 to May 27 if its demands are not met, which also include a raising of its limit to buy players and the ability to field more foreign players in the XI.

"I believe this is a matter that must be discussed in private between Sahara and the BCCI," Srinivasan said.

Regarding the team sponsorship, Srinivasan said the BCCI is willing to "walk that extra mile to see how we can assuage the feelings of the sponsor," but added that there was no dearth of sponsors for the Indian team if Sahara does walk away.

Sahara has been paying 3.34 crore rupees ($670,000) for each test, one-dayer and Twenty20 game.