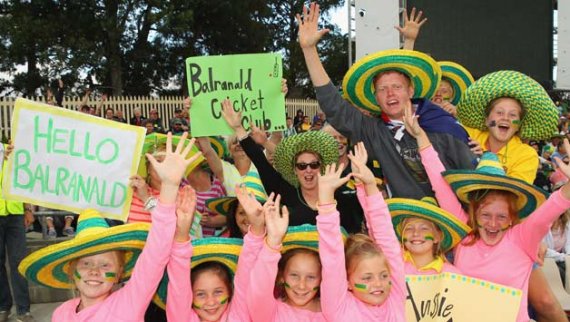 Abu Dhabi: The man regarded as Australia's foremost cricket fan has spoken of how he misses trips to Pakistan and wants to see the country back on the international circuit.
Luke Gallian, who believes he is the only fan who has watched cricket in every Test-playing country, has been a common sight at Australia's games for the past two decades.
And he said despite some "scary" moments in Pakistan, off-limits for top-level tours since 2009 because of the risk of militant attacks, he wants to see cricket there again.
"I can go to Pakistan tomorrow," the 44-year-old told AFP during Pakistan's series against Australia in the United Arab Emirates, where they play their home matches.
"I wanted to take tours three times but every time there was unrest and we had to cancel the tour, but I am sure the day is not far when we can go there again.
"I feel for Pakistan spectators."
For Gallian, easily recognisable by his colourful shirts, Australia flag and baggy green cap, Pakistan evokes memories of a bygone era in cricket, when players were close to the fans.
During Australia's last tour of Pakistan in 1998, he remembers knocking on the team's dressing room door and being allowed inside for the first time.
"I used to knock the Australian dressing room and Steve Waugh would always oblige," recalled Gallian, who runs a travel agency, www.Wavingtheflag.Com, which specialises in cricket tours.
Now it is a very different world with players on their guard after a series of match-fixing scandals, and more likely to interact through social media than in real life.
"I think social media has misinterpreted and mixed up everything," Gallian said.
"Then players have come under scrutiny because of fixing which is understandable but spectators have lost a chance to interact with the players."
Gallian is among a group of colourful, well-known spectators like Phil Long of England's Barmy Army, the West Indies' "Gravy", Chacha (Uncle) Cricket of Pakistan, Percy Abeysekera of Sri Lanka and Sudhir Kumar of India.