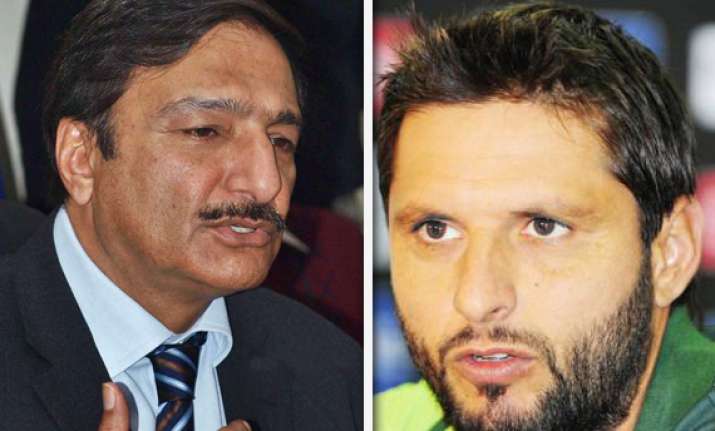 Islamabad, Oct 28: Pakistan cricket's new chief Zaka Ashraf said Friday he thinks allrounder Shahid Afridi still has plenty to offer as a one-day player.

"As a Pakistan national and as a cricket viewer I think Afridi is very good one-day player," Ashraf told reporters.

Afridi quit international cricket after developing differences with former Pakistan Cricket Board chairman Ijaz Butt and ex-coach Waqar Younis.

Afridi made himself available for national selection after Ashraf took over from Butt earlier this month and Younis stepped down due to personal reasons.

Ashraf said he and Afridi will meet soon to discuss the player's future.

"He has contacted me, but I could say something only after we both meet with each other," he said.

Pakistan is currently playing a test series against Sri Lanka in the United Arab Emirates and it is likely Afridi's fate would be decided before the one-day series begins on Nov. 11 in Dubai.

Ashraf visited the PCB head office in Lahore on Friday to meet with various PCB officials. He also plans to meet with various former test cricketers, including his favorite crickter-turned-politician Imran Khan.

"I want to develop consensus on how to move forward after meeting with legends," Ashraf said. "I am a very good listener."

Ashraf said he needed at least "two to three months" to settle down and study the working of the PCB.

For well over a decade, the PCB has been governed on ad-hoc basis with the chairman appointed directly by the president of the country.

The International Cricket Council has set 2013 as the deadline for all the cricket boards to run their operations democratically.

Local media have speculated that is the reason Ashraf was appointed by president Asif Ali Zardari earlier this month "till further orders" instead of for the usual three-year term.