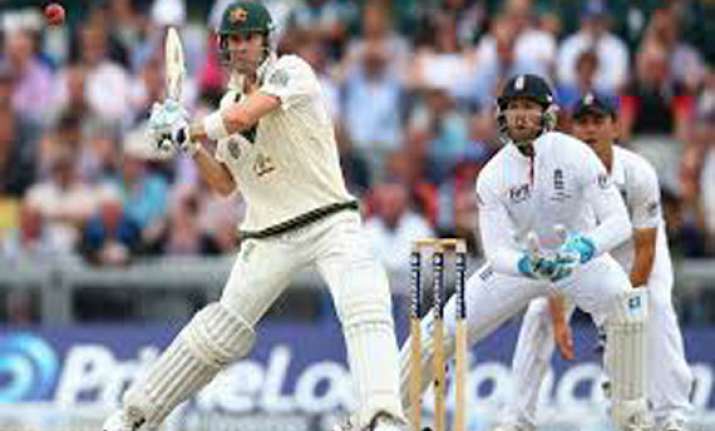 Chester-Le-Street, Aug 9: Alastair Cook departed for a painstaking 51 as Australia seized the initiative in the fourth Ashes test Friday, reducing England to 155-4 by tea on the opening day.
Jonathan Trott (49) and Kevin Pietersen (26) were the other wickets to fall after lunch, both removed by offspinner Nathan Lyon after helping up the run-rate following a stodgy morning session.
Captain Cook was far more circumspect as he ground his way to a 32nd test half-century off 153 balls, before misjudging an inswinging delivery from Ashes debutant Jackson Bird and finding himself trapped lbw.
Australia, needing a victory to keep alive hopes of drawing a series that England leads 2-0, relied on the much-criticized Hot Spot to make the early breakthrough as Joe Root departed for 16 after edging Shane Watson behind.
Ian Bell was on 6 and Jonny Bairstow not out 0.
Cook said Thursday it was "only a matter of time" before he got back in the runs after a slow start to the Ashes and he proved true to his word—although it was painstaking viewing at times.
He hit six fours—one gloriously through the covers from a half-volley off Watson—but he was the main reason why England's progress was so slow on an admittedly lifeless strip at Chester-le-Street, which is hosting its first Ashes test.
Trott was showing his best form of the series, playing confidently and effortlessly to move to within a run of what would have been his quickest test fifty.
But he was soon trudging off dejectedly, his free-flowing innings ending in disappointing fashion when he flicked Lyon's delivery onto his knee roll for the diving Usman Khawaja to catch at short leg.
Pietersen was just as attacking as Trott—perhaps too attacking. On his first ball, he attempted to smash Lyon to deep mid-on but mistimed his shot and escaped for 2 runs, and then miscued a straight drive that still raced away for four.
England's standout batsman almost had Cook run out when he went for a crazy single but walked after edging Lyon behind to wicketkeeper Brad Haddin. In the circumstances, a more patient innings from Pietersen might have been better for England.
Cook's dismissal 10 minutes before to Bird, brought in for his first Ashes start for the dropped Mitchell Starc, left England up against it as Australia's probing attack finally got its rewards. Lyon had figures of 2-28 while Watson was as stingy as always, giving up 20 runs off 10 overs.
The buildup to the test had been dominated by the controversy surrounding the Decision Review System, with Australian broadcaster Channel Nine claiming this week that silicon tape might have been attached to the edges of bats to "fool" the technology in light of a string of contentious calls in the opening three matches.
Those claims were angrily denied by both teams, who went on to reiterate their support for DRS, but the flap meant excitement spread through the ground when Australia appealed the Root decision after England had crawled to 34 off 17.3 overs in a quiet morning session.
Third umpire Marais Erasmus wasted no time in overturning the call of on-field umpire Tony Hill when the smallest of white marks was shown on Root's bat on the replays. Snickometer confirmed the edge, too.