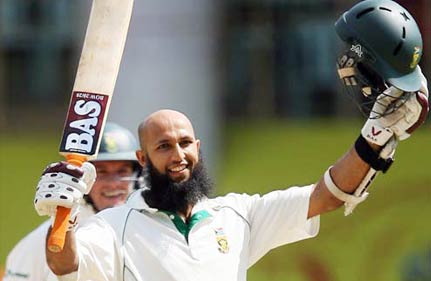 Johannesburg: Indian-origin batsman Hashim Amla was the star of Cricket South Africa's Annual Awards night, clinching the 'Cricket of the Year' honour along with four other trophies, including a special one for a knock against India.
Amla was also named 'Test Cricketer of the Year' and lauded by both his peers and fans, who ensured that he won the 'South African Players' Player of the Year' and 'CSA Fans' Cricketer of the Year' awards.
Amla's fifth trophy was the 'So Good Award' sponsored by popular chicken fast food franchise KFC in recognition of his match-winning knock of 253 not out in the first Test against India in Nagpur last year.
AB de Villiers was named 'ODI Cricketer of the Year' and Charl Langeveldt received the 'International Pro20 Cricketer of the Year' award. The 'Newcomer of the Year Award' went to Ryan McLaren.
In his best year since joining the national squad, Amla scored four Test centuries, including his first career double and also joined the ranks of those who scored centuries in both innings of a Test match. During the year he played in nine Test matches, with 923 runs at an average of 65.9.
He also established himself as one of South Africa's foremost limited overs batsmen, setting a national record when he scored more than 400 runs in the five-match series in the West Indies.