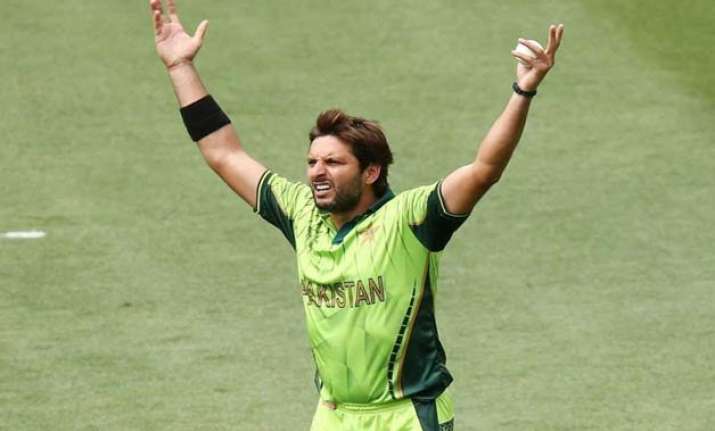 Karachi: Pakistan's flamboyant all-rounder Shahid Afridi has ruled out any chance of making a comeback to One-day International cricket, insisting the new players needed proper time to settle down in the national team.
Afridi, who left for Dhaka with a few other players including Ahmed Shehzad to play the lone T20 international against Bangladesh, said he has no intentions of going back on his decision to retire from the ODIs.
"My decision is final. We have to understand that the new players will take time to adjust and settle down and we have to give them proper time for this," Afridi told reporters before his departure.
Afridi retired from ODIs after the World Cup, having appeared in 400 games. He is now focusing only on T20.
He said all his efforts are now focused on building a strong team, which will be capable of winning the next World T20 Cup in India in 2016.
"We have some exciting players in our T20 squad and my aim as captain now is to build up a strong outfit," he said.
"That we lost the one-day series to Bangladesh will not make a difference to us and we want to win this lone T20 game," Afridi added.
The all-rounder said that it was unfair to say that the career of off-spinner Saeed Ajmal was finished after just one match.
"Saeed has given great service to the country and we shouldn't make judgements on basis of one or two matches."
Saeed returned to the Pakistan side in the first two ODIs against Bangladesh with a rectified bowling action and while he was very expensive in the first match, he bowled better in the second one.
Afridi said Pakistan needed to improve their overall game in all three departments.
Having represented Pakistan in a record 77 Twenty20 Internationals, Afridi said the batsmen needed to take more responsibility and required to build partnerships.
"In any format, partnerships are the key. I am not demanding century-plus partnerships. I want the players to make significant contributions with the bat and even 40s and 50s matter a lot," he said.
Afridi also felt that Ahmed Shehzad and Umar Akmal were talented batsmen and could serve Pakistan for number of years.
"I don't agree with the decision to drop them altogether for the one-day matches if they have any attitude problem, the management should sit down and talk to them about.