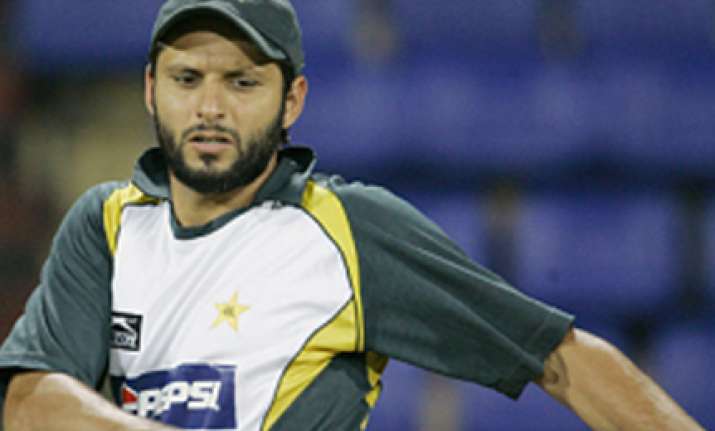 Pakistan Cricket Board on Tuesday appointed experienced allrounder Shahid Afridi captain of the team for the upcoming T20 World Cup in the West Indies, bringing an end to the uncertainty on the leadership issue.
 The honour for Afridi, who was recently fined Rs 3 million for his ball-tampering act in Australia, came just hours after he had received the President's Pride of Performance award, a top civilian honor, for his feats in the T20 World Cup in England last year.
The PCB said the appointment was for the T20 World Cup but indications are that if the 30-year-old Afridi manages to lead and gel the team well he could be having the captaincy in the Test and one-day forms of the game as well.
Sources within the Board said that during a meeting that the Chairman of the Board, Ejaz Butt had with national team coach, Waqar Younis and manager, Yawar Saeed and also with Afridi on Tuesday, it was decided he can resume playing Test cricket as well.
 Afridi s last Test appearance was in 2006 in England and since then he has been limited to play for Pakistan in ODIs and T20 internationals.
 Afridi said he was elated at getting the captaincy back despite the recent fine of Rs 3 million on him.
"It is a big honour for me to lead my country and I relish the challenge. I just want to assure my people that this team is perfectly capable of defending its title successfully in the West Indies," Afridi said.
He also ruled out any chance of problems within the team after the recent happenings in New Zealand and Australia which led to the Board imposing bans on Muhammad Yousuf, Younis Khan, Shoaib Malik and Rana Naved and also fining Afridi, Kamran and Umar Akmal.
Afridi and Kamran have also been put on a six months probation for behaviour.
 The flamboyant all-rounder said he was aware of the tough challenges facing him and his team and he was ready for it.
"Obviously I want to have the captaincy for a long time and that can only happen if the team does well," he said. PTI