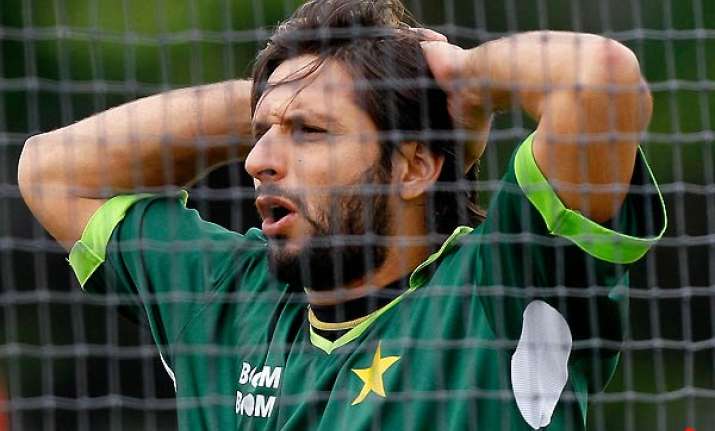 Islamabad, Jun 5 : Shahid Afridi's lawyer has called the Pakistan Cricket Board's disciplinary process "a sham" as it prepares to pass judgment on the former one-day and Twenty20 captain.

Afridi is due to appear before a disciplinary committee Wednesday after the allrounder criticized top PCB officials, and said he would retire. The board responded by canceling his central contract and revoking the paperwork which enables him to play county cricket in England for Hampshire.

Afridi's lawyer Syed Zafar Ali criticized the disciplinary committee's process in a letter to PCB legal adviser Tafazzul Rizvi _ a copy of which was obtained Sunday by The Associated Press.

Under the terms of a central contract, a Pakistan player is bound not to violate the PCB's code of conduct, even after he announces his retirement. It is also mandatory for every player to get a No Objection Certificate from the board if he wishes to compete in any cricketing event abroad.

The committee will hold its proceedings in camera and no outsider will be allowed to take part.

"It appears that the PCB has already made up its mind and has come to the conclusion that Mr.
Shahid Afridi is 'guilty'," Ali said in the letter, adding that "…the disciplinary proceeding is in fact a sham."

Ali also said the board had no legal right to suspend the central contract or revoke the No Objection Certificates and said it could be challenged "in a court of law."

Afridi's lawyer was also unhappy with the proceedings behind held closed doors, arguing that the board "has no right to impose an embargo on the right of our client to legal representation."

The lawyer said that Afridi wanted to avoid any confrontation with the board and just wanted to answer the case against him.

Afridi's relations with the PCB became strained soon after he returned home following Pakistan's 3-2 victory over the West Indies in an ODI series during April and May.

Afridi accused team management of interfering in his job as captain, prompting PCB chairman Ijaz Butt to name Misbah-ul-Haq as the skipper for a two-match series against Ireland.

Afridi subsequently pulled out of the squad for the Ireland series, which Pakistan won 2-0, saying that his father was ill.

The turning point came when Afridi criticized the PCB officials, including one of the selectors Muhammad Ilyas, and then announced he was retiring from international cricket in protest.

However, the enigmatic allrounder also said that if the present board setup was to change he might return.

Afridi was due to arrive in Karachi later Sunday and a large number of his supporters are expected to meet him at Quaid-e-Azam International Airport. His supporters have also installed huge billboards on the main roads of the city.