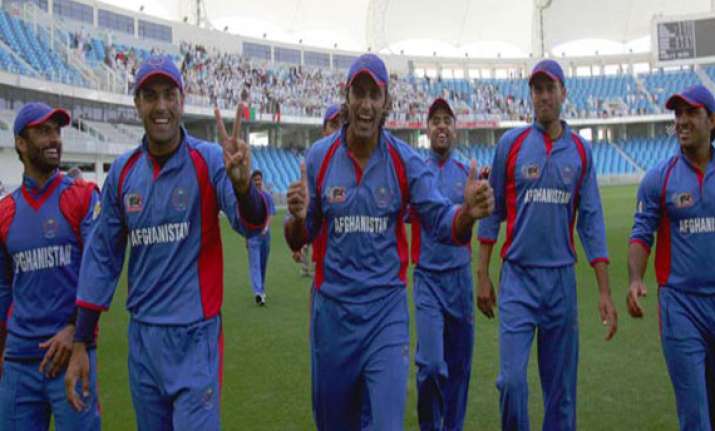 Sharjah: Afghanistan are on the cusp of historic qualification for their maiden cricket World Cup in 2015 to be jointly staged in Australia and New Zealand.
Win against Kenya Friday will put Afghanistan in Pool A of ICC Cricket World Cup 2015 that includes Australia, Bangladesh, England, New Zealand, Sri Lanka and Qualifier 4.
Friday's match between Afghanistan and Kenya at the Sharjah Cricket Stadium, will determine whether Afghanistan earn an automatic qualification for the ICC's flagship event or whether the United Arab Emirates (UAE) will break a 19-year drought to return to the ICC Cricket World Cup stage.
The standings are such that if Afghanistan manage to defeat Kenya, they will make history by qualifying for the ICC Cricket World Cup for the very first time. However, if Kenya win the match, then the UAE will advance to Australia and New Zealand for the cup ties.
Irrespective of which side qualifies, one thing is guaranteed: For the first time in the history of the tournament, at least five Asian sides will participate in an ICC Cricket World Cup.
The side that earns an automatic qualification Friday will find a place in Pool A alongside four-time champions Australia and co-host New Zealand, as well as Bangladesh, England and Sri Lanka.
Qualifier 4, also part of Pool A, will be confirmed in February next year, during the final of the ICC Cricket World Cup Qualifier New Zealand 2014.
Afghanistan have good momentum leading up to Friday's do-or-die match, having won five consecutive 50-over matches.
Teams:
Afghanistan: Mohammad Nabi (captain), Mirwais Ashraf, Hamid Hassan, Amir Hamza Hotak, Nowroz Mangal, Mohammad Shehzad, Karim Sadiq, Hashmatullah Shahidi, Samiullah Shinwari, Sayed Ahmed Shirzad, Mohammad Asghar Stanikzai, Shahpur Zadran, Afsar Khan Zazai and Rahmat Shah Zurmati
Kenya: Collins Obuya (captain), Ragheb Aga, Dhiren Gondaria, Irfan Karim, Shem Ngoche, Alex Obanda, Nehemiah Odhiambo, Nelson Odhiambo, Elijah Otieno, Morris Ouma, Rakep Patel, Gurdeep Singh, Hiren Varaiya and Dominic Wesonga