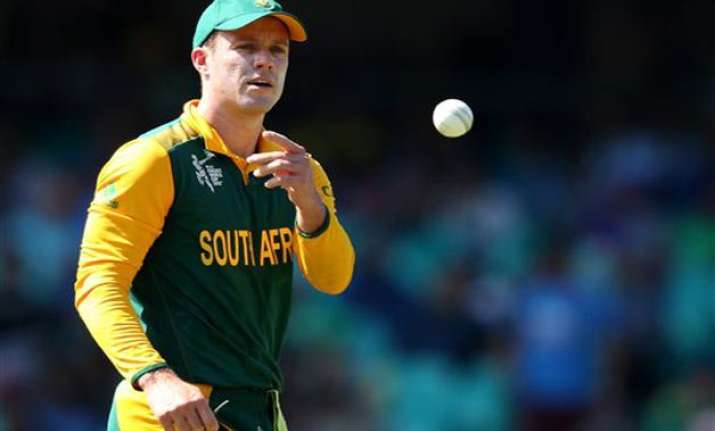 New Delhi: South Africa captain AB de Villiers threatened to boycott semifinal tie against New Zealand in the World Cup after the team's racial quota saw a white player dropped for an injured black player.
"AB didn't want to play in the semi because of this; it is a clear case of interference by the board - they ordered Philander's selection," a source is quoted as saying in South Africa's Rand Daily Mail.
South African sports minister Fikile Mbalula has firmly denied that he influenced the cricket team to drop white bowler Kyle Abbott for Vernon Philander in the crucial match.
Mbalula, who is black, said he was responding to accusations made by "a dying breed of political dinosaurs". He didn't identify the source of the accusations.
"We know who are spreading these speculations and we will not dignify them by mentioning their names," Mbalula said in a statement.
"These are acts of desperate colonial apartheid apologist(s) ... We shall not be deterred by their mischief."
Mbalula's has been backed up by Cricket South Africa chief executive Haroon Lorgat, who said there was "absolutely no interference" with team selection at the World Cup in Australia and New Zealand.
"I must tell you that I've never heard any more nonsense than that in all my tenure as an administrator," Lorgat said.
However, the South Africa cricket team does have an informal agreement that it should normally have at least four non-white players in its lineup. Without Philander against New Zealand, South Africa would have had only three.
The rugby and cricket teams, often at or near the top of the world rankings, have long been under pressure to field more non-whites, who weren't allowed to play for national teams during apartheid.
Although a high-class bowler, Philander was out of form and struggled with injury at the World Cup, while Abbott impressed.
Philander also appeared to be not fully fit when recalled for the New Zealand game.