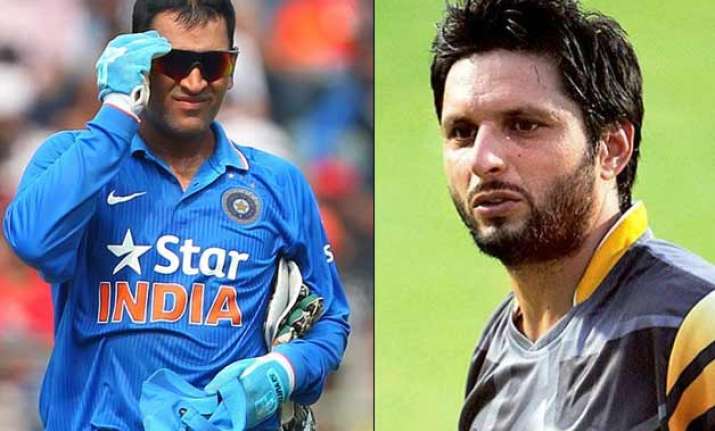 New Delhi: The upcoming World T20 clash between India and Pakistan has created hype like never before. Sending out ripples in the stomachs of millions of fans from either side of the border, this match between the two neighbouring countries has brought people and daily lives to a standstill.
Should rains permit, the clash is set to be an action-packed encounter. Ironically, it is a must-win for Team India in order to continue their journey in the World Cup where they started off as the favourites.
Bringing fans to the edge, this Indo-Pak match is riding extremely high on emotions due to the long-standing rivalry between the two nations.
To heighten the level of excitement before the start of this epic game, we bring you some interesting comparisons and statistics of both the teams.
Out of the total encounters between India and Pakistan in Twenty20 Internationals, India have emerged victorious six times while Pakistan for just once.
Coming to World T20, India have a cent per cent record against the neighbouring nation. The Men-in-blue have won all the four matches they have played with the Men-in-green.
Not just in the T20 World Cup, India are unbeaten against Pakistan in the 50 overs World Cup as well.
With all the statistics going in favour of India for today's match, there's one record which might give a reason to worry for the hosts.
India have never been able to register a win against Pakistan at Eden Gardens in both the formats of the game.
Here are the statistics:
Head to Head in Twenty20 Internationals-
Matches Played – 7
India – 6
Pakistan – 1
Head to Head in World T20-
Matches Played – 4
India – 4
Pakistan – 0
Head to Head in World Cup (50 overs)-
Matches Played – 6
India – 6
Pakistan – 0
Indo-Pak clash at Eden Gardens (T20)-
Matches Played – 1
India – 0
Pakistan – 1
Indo-Pak clash at Eden Gardens (ODI)-
Matches – 4
India – 0
Pakistan – 4
Key factors for winning against Pakistan in T20-
* If openers put on 40+ stand India win 78% of matches
* If Rohit scores 30+ runs India wins 88% of matches
* If Ashwin takes 2+ wickets India wins 82% of matches
* If India score 150+ batting first, they successfully defend 76% of matches
* If Pakistan scores <150+ batting first, they lose 59% of matches