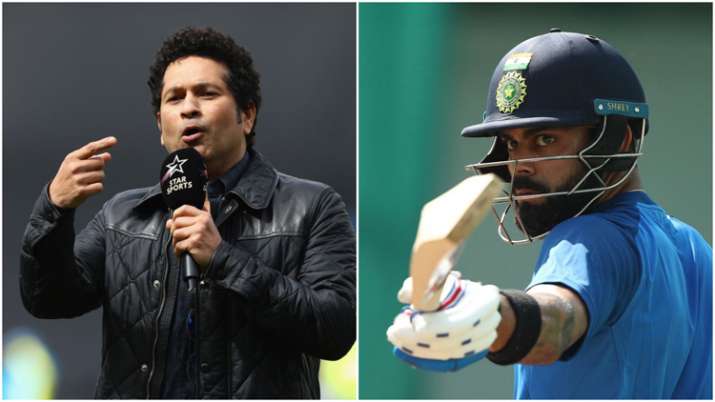 Stacking up staggering numbers with monotonic regularity may have become a day job for Virat Kohli, but he alone can in "no way" win a World Cup without support from his teammates, feels Sachin Tendulkar.
In an exclusive interview with the PTI, Tendulkar spoke about a range of topics including Kuldeep Yadav and Yuzvendra Chahal's role, the contentious No. 4 slot and how flat pitches in England are taking bowlers out of the equation.
"I think you will always have a couple of individuals stepping up every game but without team support, you can't do much. Just because of one individual, you can't win a tournament. No way. Unless, others chip in at every crucial stage. If that doesn't happen, there will be disappointment," Tendulkar said when asked if Kohli will carry the same burden like he did, specifically during the 1996, 1999 and 2003 editions.
Tendulkar is hardly worried that India doesn't have a settled No. 4, saying the slot can be kept flexible as per requirement and match situation.
"I think we have batsmen, who can do the job. Number four is just a number and it can be adjusted. I particularly don't see No 4 as a problem. Our boys have played enough cricket to know their roles whether it is No 4, 6 or 8. Situational awareness is the key," the world's highest run-getter in Tests and ODIs said.
What Tendulkar liked about the composition of the World Cup-bound India team is the blend of youth and experience.
"There is a good balance in the side. We have a number of guys with 8-10 years of experience and at the same time, we have talented youngsters like Kuldeep, Rahul, Chahal, Hardik (Pandya) and Jasprit (Bumrah) with a couple of years of international cricket.
"So it's a perfect blend with all the makings of a wonderful team. I rate our chances very high," concluded Tendulkar.