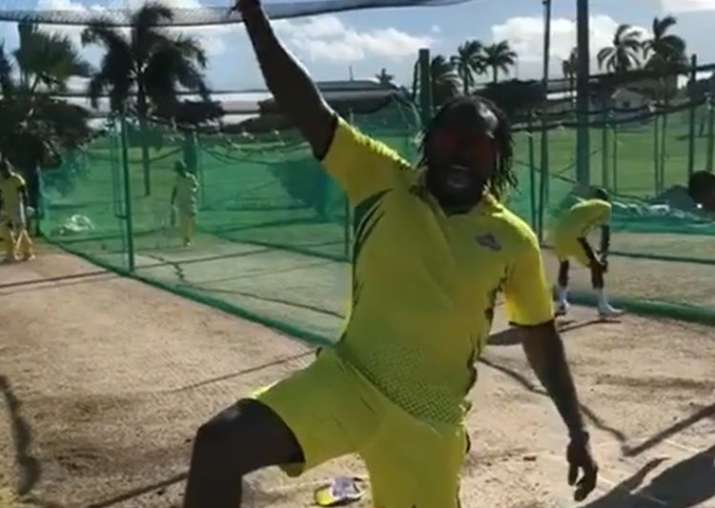 West Indies' star Chris Gayle is completely soaked up in love with Punjab since the day Kings XI Punjab (KXIP) bought him in the Indian Premier League (IPL) Auction for the upcoming season, starting in April 2018. From performing Bhangra to donning a Sikh Turban, the West Indian has done all with a great zeal.
Recently, Gayle was spotted showing off a few Punjabi dance steps with teammate Andre Russell, who was retained by Kolkata Knight Riders (KKR) for the IPL 2018.
In a practice session, Gayle caught and bowled Russell and celebrated in Punjabi style, saying "Burrah".
"Never a dull moment will get you back in the game @chrisgayle333 #kkr vs #kings #ipl2018," Russell captioned the video on Instagram.
In another video, the two cricketers were seen engaged in a fun-filled banter. Russell claimed he will hit Gayle for a six and then perform Bhangra. However, Gayle dismissed his wicket and celebrated by patting his thigh and saying "Burrah".
"This Knight Rider player can't be a Punjabi man," Gayle said in the video, teasing the Jamaican.
"Was a brilliant day in the nets with the man himself @chrisgayle333 feels great to be representing my country again after a long year! #kkr vs #kings," Russell wrote along side the video.
Excited to join his new franchise, Gayle earlier donned a Sikh Turban. "Looks like @chrisgayle333 is already ready for his Punjab visit! #LivePunjabiPlayPunjabi #KingsXIPunjab #IPL," Kings XI Punjab wrote on their official Instagram account.
KXIP bought him for Rs 2 crore in the final session of the auction event. There was an uncertainty about Chris Gayle's presence in the 11th edition of the Indian Premier League as he went unsold twice. No franchise was ready to buy the swashbuckler due to his form in the past seasons.
Gayle had a base price of Rs 2 crore, which was deemed as 'too much' by the franchises that led to him heading to Punjab. The 38-year-old swashbuckler has played for Kolkata Knight Riders and Royal Challengers Bangalore in the previous editions of the cash-rich league.