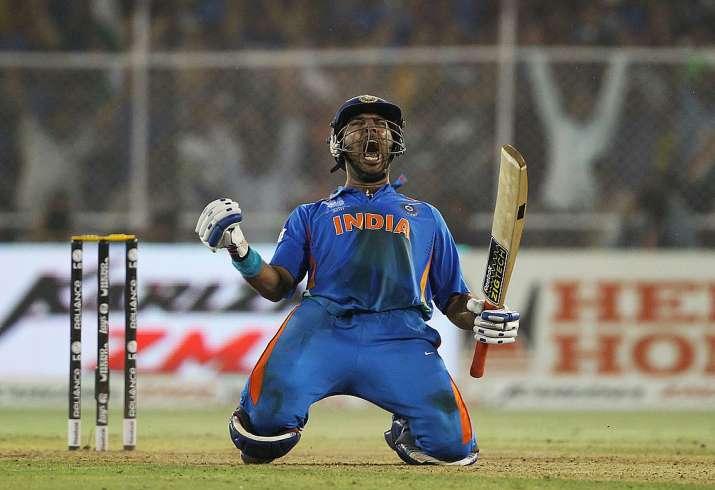 It seems like it was just a few years ago when India's swashbuckler Yuvraj Singh created history by smashing six sixes in an over at the Kingsmead in Durban, South Africa. It was a moment that the Indian players, fans and England's Stuart Broad would never forget. 
On September 19, 2007, India won the toss and elected to bat first against England in the ICC World T20 fixture at Durban. Openers Gautam Gambhir and Virender Sehwag managed to make their bats talk as they brought the attack to the opposition camp. After the dismissal of the batsmen, Yuvraj was on strike in the 19th over of the first innings when the veteran decided to step up and let his bat create the mayhem.
Before Broad's over, Yuvraj and Andrew Flintoff had a bit of a spat which led to a verbal argument. At the other end of the stick, it was captain cool MS Dhoni who calmed down the hothead and advised the batsman to talk more with the bat. Well, it didn't take long enough when Yuvraj answered in a manner which made the English players look quite foolish and embarrassed.
Yuvraj Singh inscribed a chapter in the Indian cricket history books that day.  India set a score of 219 for England and won the match by 18 runs. 
As media reports suggest, Yuvraj had no intention of hammering Broad for six sixes, but that particular over a defining landmark in the left-handed batsman's career.  
6, 6, 6, 6, 6, 6#OnThisDay in 2007, @YUVSTRONG12 made T20I history. pic.twitter.com/UBjyGeMjwE

— ICC (@ICC) September 19, 2017
Before Yuvraj, this feat was achieved by  West Indies' Gary Sobers who became the first batsman to hit six sixes in a row in a match between Nottinghamshire and Glamorgan on August 31, 1968. The current Indian coach Ravi Shastri also features in the list as the stylish all-rounder was the second man to hit six sixes in a match against Baroda in 1985.
It has been ten years since this glorious incident occurred when Yuvraj Singh thrashed Stuart Broad in the 19th over of the first innings between India and England on September 19, 2007.
On This Day in 2007 - @YUVSTRONG12 smashed Six 6s in an over #Yuvraj #Legend pic.twitter.com/AGZKB8wyU1

— BCCI (@BCCI) September 19, 2017
10 years ago what happened today made India proud. His form was one of the reasons for us lifting the 🏆 #6sixes #WorldCupT20 @YUVSTRONG12

— Rohit Sharma (@ImRo45) September 19, 2017