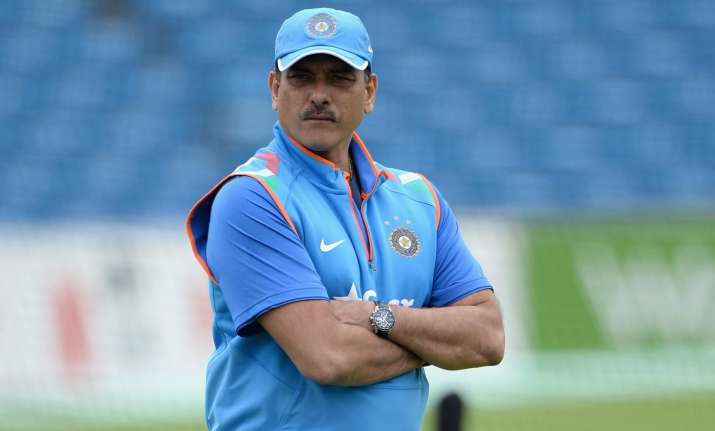 Days after Ravi Shastri was appointed as the head coach of the national team, it has been learnt that the former Team India Director is likely to demand for his own set of support staff and he will indeed be given his choice of men. Shastri on Tuesday returned at the helm of Indian cricket as the chief coach, exactly a year after an unceremonious exit, pipping strong contenders such as Virender Sehwag and Tom Moody to the top post. Shastri replaced Anil Kumble, who stepped down after a much publicised difference of opinion with captain Virat Kohli.
Making for a star-studded coaching team, former fast bowler Zaheer Khan took over as the bowling consultant while Rahul Dravid was handed over additional responsibility of a batting consultant on specific overseas tours.
However, within just two days of the high-profile appointments, there seems to be a bone of contention already. According to highly-placed sources in the Board of Control for Cricket in India, Shastri was not consulted by the Cricket Advisory Committee comprising Sachin Tendulkar, Sourav Ganguly and VVS Laxman on the appointment of the support staff.
It would be worth mentioning here that the CAC's job was only to find the head coach and not the support staff. It is the head coach's prerogative to get his choice of coaching staff. And Shastri indeed was not amused.
Shastri's choice of bowling coach was always Bharat Arun and it is now apparent that CAC did not take Shastri into confidence while recommending Zaheer as the bowling coach although his role would be similar to that of Rahul Dravid - that of a consultant.
It has been learnt that Zaheer is unlikely to give around 250 days a year that a full-time bowling coach will be required to and may not be available for more than 100 days. It may also be mentioned that Zaheer's salary package has not yet been inked as negotiations are still on.
Earlier, when Shastri was asked about his choice of bowling coach, he had said Arun but one particular member of CAC was against it.
Shastri is expected to meet the BCCI's Committee of Administrators (CoA) during the weekend and put forward his demands.
Meanwhile, in an exclusive interview to India TV, Shastri had hailed the appointments of Dravid and Zaheer. 
"Both Rahul Dravid and Zaheer Khan have played high-level cricket and they have got so much of experience. When you are out playing for 150 days and then suddenly when someone comes from outside and gives you fresh inputs, it creates a lot of difference. It is a positive step," Shastri told India TV.
However, Shastri wants a full-time bowling coach and not someone like Zaheer, who will only be available as a consultant.
In case Shastri can get Arun on board, it will be a sweet revenge for him on his bete-noire Ganguly, who had vehemently opposed his candidature. 
Arun had replaced Joe Dawes in 2014 and was there with the Indian team till 2016 when Shastri was dumped. He didn't have a distinguished playing career but has always been regarded as a great academy coach with a sound grip on the theories related to fast bowling.
Arun and Shastri go back a long way having been buddies since their U-19 days back in early 80's. It was on Shastri's recommendation that erstwhile President N Srinivasan gave a go-ahead to Arun's appointment with the senior team when he was the bowling consultant at the NCA.
(With special inputs from India TV Sports Correspondent Vaibhav Bhola)