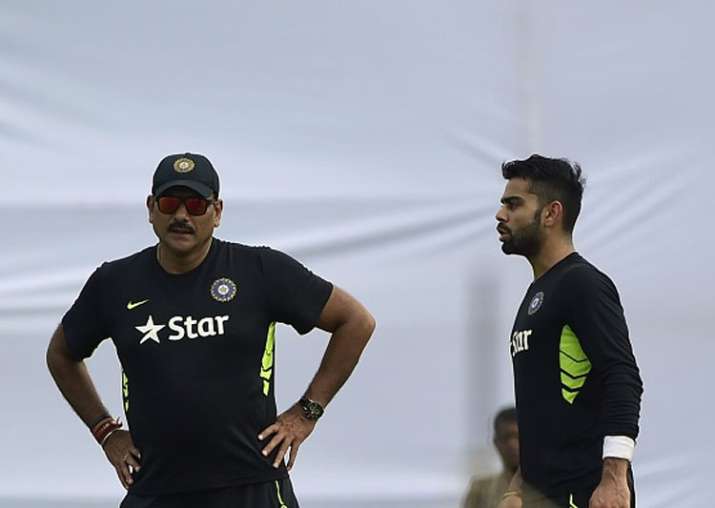 Ravi Shastri, the new head coach of the Indian cricket team, on Wednesday said he will not be just a 'yes man' guy to captain Virat Kohli and his players and will bring in his own ideas to help the team in the next two years. The 55-year-old former India captain was on Tuesday named as the head coach of the Indian team. Speaking for the first time after his appointment, Shastri told India TV that he is well aware of his duties as a chief coach. 
"Team knows my approach. They know how close they can be with me and how much of a distance they need to maintain from me. There's a good understanding between me and the team," Shastri told India TV from London.
Shastri also said that the decision on Mahendra Singh Dhoni and Yuvraj Singh's future will be taken purely on the basis of performance and fitness. 
"Their experience will be invaluable and their performance from the last 10-15 years should be respected. Fitness and current form are the two most important parameters to judge their future," he said.
Shastri on Tuesday returned at the helm of Indian cricket as the chief coach, exactly a year after an unceremonious exit, pipping strong contenders such as Virender Sehwag to the coveted post. Shastri replaced Anil Kumble, who exited after a much publicised difference of opinion with captain Virat Kohli.
"I got the information last night from BCCI CEO Rahul Johri. He told me that it is official and I have been appointed as the new head coach. Questions were different from last time... some good questions were being asked from all three of them - Sourav Ganguly, Sachin Tendulkar and VVS Laxman. I really enjoyed the interview," he said.
Making for a star-studded coaching team, former speedster Zaheer Khan took over as the bowling coach while Rahul Dravid was handed over additional responsibility of a batting consultant on specific overseas tours.
Shastri hailed the decision to make Dravid the batting consultant for specific overseas tours, saying that his inputs will be immensely helpful to the team.
"Both Rahul Dravid and Zaheer Khan have played high-level cricket and they have got so much of experience. When you are out playing for 150 days and then suddenly when someone comes from outside and gives you fresh inputs, it creates a lot of difference. It is a positive step," he said.
For Shastri, it will be a sweet homecoming - his third stint with the national team. The 55-year-old former India captain has earlier been a Cricket Manager during 2007 tour of Bangladesh and then Team Director from 2014 August to 2016 June.
It was a productive stint for the Indian team during which they won Test overseas series versus Sri Lanka, reached the semi-finals of 2015 World Cup and World T20 semi-finals in 2016. They also won overseas ODI series in England and T20 series in Australia. They won a Test series against South Africa.
Looking at the challengers ahead, Shastri said he will start from where he left last year.
"I don't need to immediately try out many things. I will start from where I left last year. I know this team and I would want this to be a happy unit and also consistent in all the three formats. This team has the ability to be consistent and win abroad. We are definitely ready for the challenge ahead," he said.