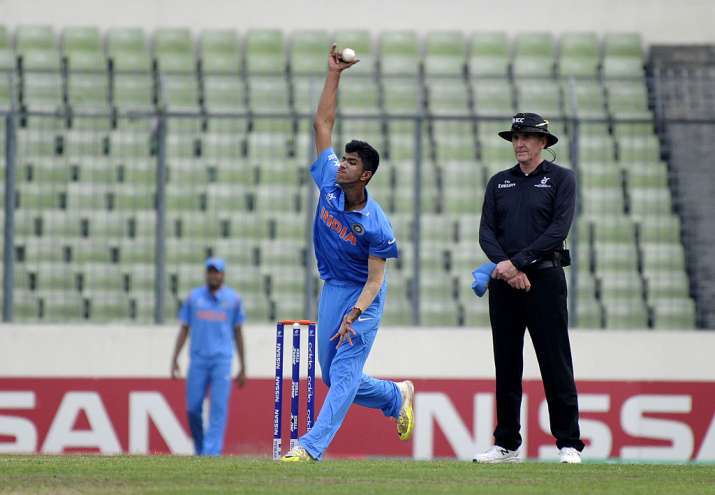 Here's an 18-year old lad who says that an unflinching belief in his game has helped him break into the Indian team. The teenager named Washington Sundar had flunked the Yo-Yo test, a test which is required to be a part of the Indian team. Sundar worked hard on his fitness to impress and convince the selectors and the result has finally paid off. The young Chennai all-rounder has now being called to represent Team India in the T20I series against Sri Lanka which starts from December 20.
"For any cricketer, playing for India is the ultimate dream. As an 18-year-old, I have got the opportunity to play for India and it is a great feeling. I trust a lot in my preparation and it has paid off." 
Sundar was brought on as a last-minute replacement for injured  Kedhar Jadhav in the ongoing ODI series. The all-rounder is unlikely to get any game time in the One-Day Internationals against Sri Lanka, but he is surely enjoying his time in the dressing room with the senior players.
"It has been my fourth day to be precise but I do not feel that I just became part of the team. I knew a lot of players before, have played with Mahi bhai (Dhoni) in the IPL. They all made me feel at home," Sundar told reporters ahead of the second ODI against Sri Lanka.
 
Even though Sundar failed the Yo-Yo test, the 18-year old did all he could and kept his faith in his ability. He attracted attention with his performance in the IPL, where he helped the MS Dhoni-led Pune Supergiants reach the final. But that was not enough to convince the selectors so he kept on improving and worked harder on all aspects of his game.
"I went back, prepared a lot, trained a lot on aspects, where I needed to. It paid off. I started bowling more and spent extra time on my batting. And fitness also as you know it has become a very important aspect of this Indian team," said the Tamil Nadu all-rounder, who made his first-class debut last year before playing his first List A game this March. 
Sundar spoke about his role in the Indian team and stated that he has to perform both well with the bat and the ball whenever the opportunity is provided.
"I would definitely have to be ready to bowl 10 overs of off-spin and contribute with the bat no matter what position the team is in." 
Excluding Dhoni, the Indian batsmen were all at sea against the turning wicket in Dharamsala but the all-rounder said that such surfaces are found in many parts of the country.
"You do see a lot of wickets like that. In a domestic season, you get to play two games on tracks similar to Dharamsala. The way Mahi bhai batted was great, he went on the counter-attack. Another 60-70 runs would have made a lot of difference," said Sundar.
India face Sri Lanka in the 2nd ODI in Mohali tomorrow at 11:30 AM.
(With PTI Inputs)