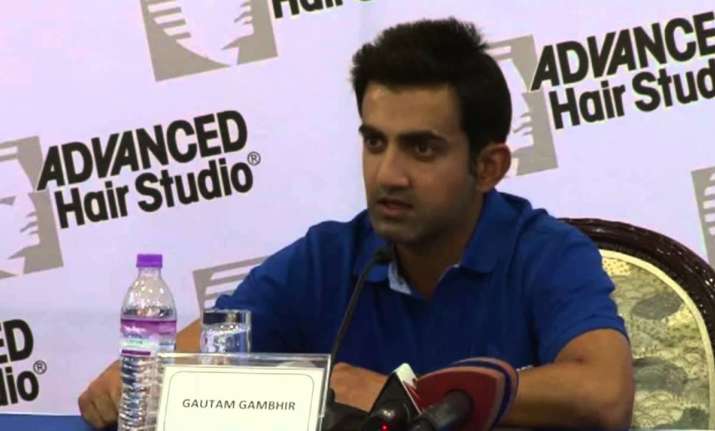 Kolkata: Out of favour India batsman Gautam Gambhir believes a game against Pakistan in a World Cup is not "the game" and that all the hype around it is media created. He also said the main focus should be on winning the title.
India play Pakistan in a high-voltage World T20 contest here at the Eden Gardens on March 19.
"The big match is media created, TRP and stuff. It is not 'the match' in the World Cup and the important thing is whichever team is playing in the event is looking to go and win the World Cup the rest does not matter. Pakistan is just one of the games. For TRPs, media build these matches but if you ask a sports person they do not see it as 'the game' because the bigger aim is to win the trophy," Gambhir told media persons here.
The Kolkata Knight Riders (KKR) skipper also did not want to tag any one as favourite and added there will be immense pressure on India as they will be playing at home. 
"The way they (India) have played in the lead up to the World Cup it looks very exciting. As I said T20 is such a format that it is difficult to tag anyone as favourites because on a given day, any individual can take the game away," he said.
"There will be a lot of pressure as well because you are playing at home everyone expects you to do well and also with the kind of group India is in it is going to be tough because Australia, New Zealand and Pakistan have always been unpredictable so they really need to play their A-game if they are to win the cup."
Gambhir also stressed the importance of veterans like Harbhajan Singh and Yuvraj Singh - who are in the team - saying they can handle pressure better than youngsters in a world event.
"It is important that you have experienced players as they can handle pressure better than youngsters who have not played in the World Cup before. Always feel World Cup will be a different ball game from the pressure point of view. Good that India have experience," he stated.
Speaking about the wicket at Eden Gardens, which also serves as the home ground of KKR, Gambhir said:" ICC tournaments have ICC curators managing wickets as well. People want to come here and see good cricket rather than ball dominating bat and vice versa.
"Once the tournaments starts we will get to know (about the wicket), there has been a lot of cry about wickets but KKR have chased targets of 180 plus as well. But overall you got to bat and bowl well."
KKR this year have bagged the likes of New Zealand batting all rounder Colin Munro and West Indies' Jason Holder. Gambhir said they were bought to plug in the gaps.
"KKR are trying to fill in the gaps. Holder can be a back up for (Andre) Russell. Munro is a different players, he can hit the ball hard. We got (Australian pacer) John Hastings for his experience. We have stuck to almost the same squad for a few years now that has been our USP," he said.