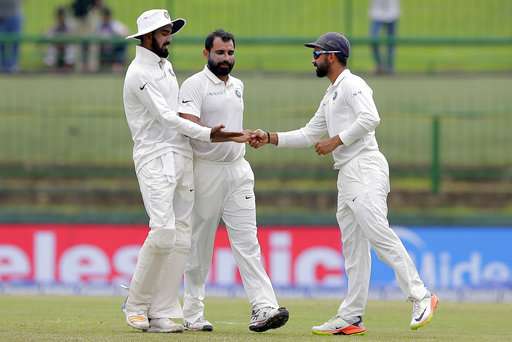 India thump Sri Lanka to register a comprehensive win by an innings and 171 runs in the third and final Test at Pallekele International Stadium, Pallekele. With this win, the visitors completed the formalities of a 3-0 whitewash against the inexperienced hosts who failed to put up a consistent show in the three-match series. Virat Kohli once again won the toss and batted, only the first day finished where both teams ended up being on par. But once the Indian lower order wagged yet again, Sri Lankan shoulders drooped along with their confidence and energy levels. Hardik Pandya's onslaught ripped the spirits out of them. From there, mentally, the hosts were shut out of the match. Skipper Dinesh Chandimal showed some character as he fought hard in both the innings for the hosts but got not much substantial support at the other end. Rest it was all about the Indian bowlers going about their work professionally.
Mohammed Shami led the attack well with the new ball. Ravichandran Ashwin and Kuldeep Yadav showed their class. They were always in control with the Sri Lankan batsmen not providing a fight. The Indian captain must be very pleased with the way his side has played in the series. So that's it from us for this game. We hope you enjoyed our coverage. There wasn't much of a contest most of the times but that is how international cricket is at this moment. There are many lopsided contests happening. Hopefully, the ODIs will be more competitive. The first of which will be played on the August 20 in Dambulla. Action begins 1430 local time (0900 GMT). Until then, it's goodbye and take care! (SCORECARD)
HIGHLIGHTS FROM INDIA VS SRI LANKA, 3RD TEST, DAY 3 at PALLEKELE
15.30 IST: India skipper - Virat Kohli calls it a good win for them. Says that it is nice to get convincing victories. On the positives, Kohli replies that Pandya's confidence with the bat and ball is the biggest positive as it gives them a lot of balance. Credits Rahane, Pujara, Mukund, Rahul for their knocks. Is more than happy with the efforts of the bowlers. Opines that they look forward to play every Test with the same excitement. Says that they want to be prepared, be proactive and need to carry this forward to be a ruthless side. On Sri Lankan players, he responds that they didn't have momentum on their side and they need to believe and not lose motivation to work hard.
Couldn't have asked for a better start in whites! Cheers to the whole team 🍾💪🏻💪🏻🙂 pic.twitter.com/ifPGs4S5Sz

— hardik pandya (@hardikpandya7) August 14, 2017
15.25 IST: Man of the Series, Shikhar Dhawan jokes that he was in Hong Kong enjoying his holidays, when asked about his place in the side before the series. Admits that he got a chance since an opener was injured. Adds that he is happy that things went well and he got this award. Affirms the backing he had of the team management. He states that he tries to play the attacking game which is his natural game. Ends by saying that he needs to keep working hard as there is competition for spots in the team and so nothing is a given.
3-0! Handshakes all around #TeamIndia #SLvIND pic.twitter.com/4DJlmHvzE8

— BCCI (@BCCI) August 14, 2017
15.15 IST: Sri Lanka skipper, Dinesh Chandimal feels that one can't control the toss. Calls it a tough series as a team. Credits India for playing really well. Says that bad fielding is a part of the game but feels that they did not bat and bowl well. On the call to play the extra bowler, he replies that they wanted to restrict India under 450. Rues the batting and bowling lapses, does not think they concentrated well enough. Hopes that the talented players come good in the Pakistan tour.
What a fabulous way to end the test series! A big hug to the entire team for their outstanding performance. Good luck for the ODI series! pic.twitter.com/HaXfI7dPwo

— Sachin Tendulkar (@sachin_rt) August 14, 2017
​15.10 IST: Hardik Pandya received the 'Man of the Match' award for his all-round performance in the Pallekele Test. Speaking at the post match presentation, Pandya said: "I am glad that I got my first hundred here. I backed my instincts. I have bowling and Test cricket is not an easy place to come and take a fifer. This team is pretty amazing. Everyone backs me to do well."
15.06 IST: Kuldeep Yadav - 'Nice feeling, there were expectations form family and friends, happy that the match went through nicely. I think Kookaburra ball is more helpful for my style of bowling, the ball tends to spin a lot more when compared to the SG ball. Looking forward to the ODI series, every game is important for me. There will be no excuses, a couple of practice sessions with the white ball will be helpful. Virat Kohli was very supportive, we both planned together and went through with the best possible ideas.'  
15.02 IST: Once India won the toss and batted, only the first day finished where both teams ended up being on par. But once the Indian lower order wagged yet again, Sri Lankan shoulders drooped along with their confidence and energy levels. From there, mentally, the hosts were shut out of the match. This series has shown the huge gap that exists between these two sides. The Indian camp would be satisfied with the outcome of the series. Stay with us as we bring you the presentations in a while.
14.56 IST: Due credit should be given to the Indian bowlers - one, for their persistence, two, for their efforts to clean up the hosts in the second innings after enforcing the follow on. It is to be noted, that Kohli wasn't keen to do so, but his teammates egged him to do so and the visitors ended up inflicting another innings defeat on the home side. It seemed that Sri Lanka never turned up to play Test cricket.
14.51 IST: Fifth series win under Virat Kohli and this has been a comprehensive one. Sri Lanka proved to be rather a walkover in the series, let alone this match. Their batsmen didn't have any answers for the questions posed by the Indian bowlers. It rather proved to a meek surrender from the Lankans. This also is the first 3-0 whitewash away from home in Tests for India.
14.47 IST: OUT! 3-0 to India! Ashwin bowls the carrom ball outside off, Kumara comes forward to defend but is beaten on the outside edge. The ball crashes into the stumps and that is it for India.SL 135 and 181-all out. India win by an innings and 171 runs!
14.46 IST: FOUR! SL 135 and 181/9
Ravichandran Ashwin brought on for the last rites.
14.43 IST: FOUR! Hit away! Tossed outside off, Kumara gets under it and drives it in the air over wide mid off for a boundary.  SL 135 and 174/9
Kuldeep Yadav comes back on. Session has been extended since Sri Lanka are nine down.
14.40 IST: DROPPED! Shami bowls from wide of the crease, angles it fuller around off, Shami looks to jump and take it but fails to grab it as it hits him on the hand. He expected it to come quicker to him.  SL 135 and 170/9 in 72.4 overs
Lahiru Kumara is the last man in
14.28 IST: OUT! What a smart catch by Rahane! Dickwella was backing away to slap one. Umesh bowls it in the area he has to, length on middle and leg, following the batsman. Dickwella flashes but hits it straight to Rahane at gully who takes a sharp reflex catch diving to his left. That was really well taken and the end is near! SL 135 and 168/9
Vishwa Fernando is the penultimate man in.
14.21 IST: OUT! Edged and taken! Good length outside off, Sandakan looks to force it through the off side again but this time he gets an edge. Saha goes to his right and takes a good catch in front of first slip. That is the third wicket for Shami!  SL 135 and 166/8, trail IND (487) by 186 runs 
14.19 IST: FOUR! Good shot! Short and outside off, Sandakan punches it in front of square on the off side for a boundary. That was really well played by Sandakan.  SL 135 and 166/7 in 68.2 overs
14.17 IST: FOUR! One bounce into the ropes! Short and outside off, Dickwella loves it there and he spanks it over the point region for a boundary. He is enjoying his time out in the middle now.  SL 135 and 162/7, trail IND (487) by 190 runs
Umesh Yadav comes in place of Ravichandran Ashwin. Pace from both ends now.
Silly mid on in place, short leg and a short mid-wicket as well.
14.10 IST: FOUR! Punched! On a good length outside off, punched past the diving cover fielder for a boundary. Dickwella has continued to look good.  SL 135 and 157/7
14.06 IST: Low full toss outside off, Sandakan looks to drive but gets an outside edge that goes on the bounce to the third slip.  Just a single from Shami's over. SL 135 and 152/7 in 65 overs 
Mohammed Shami comes into bowl
13.57 IST: FOUR! Slammed! Tossed up delivery around off from Ashwin, Dickwella gets on one knee and nails the slog sweep aerially through square leg for a boundary. SL 135 and 150/7
13.56 IST: FOUR! Too short and dealt with. That's a half tracker around off, Sandakan pulls it powerfully over square leg for a boundary.  SL 135 and 146/7 in 63 overs
Lakshan Sandakan is the next man in.
13.46 IST: OUT! Perera, what have you done? A tossed up delivery outside off, Perera is enticed to go for the big shot. He doesn't hold back, goes for the slog and skies it towards deep mid-wicket. Pandya runs to his right, settles under the ball and pouches it safely. A needless shot really.  SL 135 and 138/7, trail IND (487) by 214 runs
Time for a Drinks Break! In this hour, India were successful in picking up Chandimal and Mathews. These are body blows as far as the Lankans are concerned. It would be interesting to see whether the rest attack or defend their way further in the session.
13.36 IST: FOUR! Aaah, lucky! Flighted ball outside off, dipping on the batsman as he charged down. Perera looks to go over mid-wicket but gets an inside edge over the stumps, past the keeper for a boundary. The fielder at mid-wicket was removed and that forced the shot.  SL 135 and 134/6, trail IND (487) by 218 runs.
Lot of field changes for Dickwella on strike. Straight long off in place.
13.30 IST: FOUR! Another cracking drive from Dickwella, Kuldeep drops one short and wide on off, batsman cuts in front of square on the off-side. SL 135 and 126/6 in 56.2 overs
Dilruwan's successful review was the first one for the match
13.28 IST: NOT OUT! Tossed up ball around middle, Perera looks to defend off the front foot but the ball slides in through the defense, hits his pad and goes to first slip. On an appeal by the Indians, it is ruled out. Perera reviews it immediately. Snicko showed that the ball missed the bat clearly. Hawk Eye was summoned for LBW, which showed the ball to be missing the stumps. SL 135 and 121/6 in 56 overs 
13.26 IST: Once again, Sri Lanka have taken a review. This time it's Perera who has been ruled out as caught in slips. Seems close.
Dilruwan Perera is the next man in.
13.19 IST: OUT! Sri Lanka lose Mathews as well as a review. And it's the missed sweep that brings his downfall. And it's the missed sweep that brings his downfall. Tossed up ball around off and spinning. Mathews got down to sweep, but the ball was too fall and he couldn't make any contact with the ball. The ball struck his pad, the Indians appealed, which the umpire upheld. Mathews went up. The replays were rolled over numerous times, more so the Snicko. The ball tracker showed that the ball clipped the stumps. It was conclusive enough to uphold the on-field call. SL135 and 118/6, trail IND (487) by 234 runs
13.18 IST: Angelo Mathews has reviewed an LBW call against him. Looked plumb to the naked eye, as he missed a straight and full ball.  
13.15 IST: FOUR! Couldn't see any more authority than this since morning. Tossed up ball outside off, Niroshan slog sweeps it aerially through deep mid-wicket for a boundary. SL 135 and 116/5  
13.14 IST: FOUR!  Short and punished! Shorter ball around leg, that's pulled away through fine leg for a boundary. That's a rare bad delivery from the young Chinaman. SL 135 and 111/5 in 52.1 overs 
Niroshan Dickwella Dickwella comes out to bat.
13.07 IST: OUT! There comes the breakthrough! Kuldeep bowls it on middle and leg, Chandimal looks to nudge it through mid-wicket. Gets it off his pads and goes straight to Pujara at short leg. That is a wicket gifted by the Sri Lankan captain. Second time he has played one straight into the hands of the fielder. Kuldeep helps India break the stand. SL 135 and 104/5, trail IND (487) by 248 runs
13.01 IST: SIX! Cracking shot, that's one way of releasing the pressure, Mathews charges down the track, takes the ball on the full and deposits it over the fence at long-off, first six of the innings.  100 comes up for Sri Lanka. SL 135 and 102/4 
12.57 IST: FOUR! That's a good looking shot. Seeing a bit more flight, Chandimal charges down and smashes it right over the bowlers end for a boundary. SL 135 and 95/4 in 48 overs, trail IND (487) by 257 runs 
12.52 IST: Fifty Partnership comes up between Chandimal (30*) and Mathews (21*)! 
12.49 IST: MAIDEN from Kuldeep! Tidy stuff from the Chinaman bowler. SL 135 and 88/4
12.46 IST: Floated outside off, Mathews pushes at it with soft hands. The ball goes wide of slip towards third man as the batters run two. SL 135 and 88/4
R Ashwin will have a bowl from the other end.
12.43 IST: Solid front foot defence for this flatter delivery in line of the stumps, 2 runs from Kuldeep's over. SL 135 and 84/4 in 43 overs
12.40 IST: The men who matter stride out in the middle. Chandimal and Mathews will resume their grind with the bat, while Kuldeep Yadav will start the probe with the ball.
12.15 IST: 
VIDEO: What would @imkuldeep18 do if he gets to spend 15 minutes on Mars? Find out here in this fun segment - https://t.co/ksyJyWI3be

— BCCI (@BCCI) August 14, 2017
12.10 IST: 29 overs, 63 runs, 3 wickets - These are the numbers that matter for this session. India started on the right note by sending back the overnight batsmen back to the hut early. Shami bowled a probing spell and the hosts were left searching for answers. They would find solace from the fact that they didn't end up losing a cluster of wickets to him in that spell. Chandimal and Mathews have done well to guard their wickets since drinks. Join us in a while for the resumption of the Lankan vigil as they stand 270 runs behind India at this moment.
12.01 IST: Fullish and straight from Umesh Yadav on this occasion, Mathews clips it to mid-wicket. THAT'S LUNCH ON DAY 3!. SL 135 and 82/4, trail IND (487) by 270 runs
11.54 IST: FOUR! Short delivery on middle, Chandimal gets into a bit of an uncomfortable position but manages it to pull through the vacant fine leg region for a boundary.  SL 135 and 83/4 in 40 overs 
11.47 IST: MAIDEN from Umesh! SL 135 and 75/4
Change of ends for Umesh Yadav.
11.43 IST: MAIDEN from Kuldeep! SL 135 and 75/4, trail IND by 277 runs
Kuldeep Yadav comes back into the attack.
11.40 IST: Chandimal works it down the leg side as the batsmen have run through for a single. 2 runs from the over. SL 135 and 75/4
Hardik Pandya is brought in to bowl now.
11.35 IST: Not Out! There hasn't been a single successful review in this Test so far! Good length delivery outside off, Mathews hangs back and looks to let it go initially. However, he ends up poking at it. There is a sound as the ball goes past the outside edge of the bat. Saha moves to his right and takes it. Virat Kohli consults with his teammates and opts to go for the DRS. Time for the replays. The Snickometer shows a bit of spike but there is daylight between bat and ball. The Ultra Edge comes into play. No movement in that and the on-field call has to be upheld. Mathews Survives! SL 135 and 73/4 in 35 overs
11.34 IST: India take a review against a caught behind decision. Mathews is the man in question. The body language of the Indians is not that confident though.
11.23 IST: FOUR! Classy! Fractionally overpitched outside off, Chandimal leans forward and creams it through extra cover to find the fence. That was pleasing to the eyes.  SL 135 and 70/4 in 33 overs
11.16 IST: MAIDEN! Another one from Umesh Yadav, he's hard to get away at the moment for the Lankan batsmen. SL 135 and 61/4, trail IND (487) by 291 runs
Axar Patel is on the field for Mohammed Shami.
11.09 IST: MAIDEN from Umesh Yadav! That one jagged back substantially! On a length outside off, stays low. Mathews covers his off stump and lets it go. It swings in late. Saha moves to his left and dives to make a good stop.  SL 135 and 59/4 in 29 overs 
Time for Drinks! Another hour where India assert their position in the match by snapping up regular wickets. Sri Lanka lost three in this hour and the talk in their camp would be to prevent or delay this slide.
11.01 IST: FOUR! Gloriously struck! Tossed up shorter delivery outside off, Chandimal gets back and punches it through covers for a boundary.  SL 135 and 59/4
10.59 IST: Probing line from Umesh, 3 runs from the over. SL 135 and 55/4 in 27 overs
Umesh Yadav comes on for a bowl.
10.53 IST: 50 comes up for Sri Lanka! SL 135 and 50/4
10.49 IST: FOUR! STREAKY STROKE! A tad fuller around off, Mathews pushes at it without any feet movement. The ball takes the edge and rolls in the gap between the gully and the slip cordon for a boundary.  SL 135 and 45/4 in 24.3 overs
Angelo Mathews strides out to the center with Lanka in disarray yet again.
10.42 IST: OUT! Shami gets his revenge! Mendis has to walk back now. Length ball around off and middle, angling in to the batsman. He looks to flick but misses and gets a rap on the pads. Once that happens, the appeal and the finger-raising is just a formality, which is completed to end his stay at the crease. There wasn't a need even to think about reviewing that. SL 135 and 39/4, trail IND (487) by 313 runs
10.39 IST: FOUR! Beautifully played! Shorter delivery outside off, Mendis goes on to the back foot and punches it to the left of point for a boundary. Good to see this.  SL 135 and 39/3
Skipper Dinesh Chandimal walks in. Can he bat out time?
10.30 IST: OUT! The wonderful seam position from Shami yields him a wicket now. Length ball, slightly on the fuller side just outside off, Pushpakumara just goes for the drive and ends up edging the ball which Saha gobbles up. Too good a delivery to a nightwatchman.  SL 135 and 34/3, trail by 318 runs  
10.25 IST: MAIDEN! This length ball outside off is driven straight to the cover fielder. Another maiden from Mohammed Shami. SL 135 and 32/2 in 19 overs
10.19 IST: FOUR! Shot! Flatter but shorter ball around off and middle, Mendis picks up the length early and half-pulls it away through fine leg for a boundary.  SL 135 and 30/2
10.17 IST: MAIDEN from SHAMI! SL 135 and 26/2 in 17 overs
Kusal Mendis walks in next.
10.11 IST: OUT! Excellent delivery to get early in the morning. Ashwin tosses it around off, which the batsman had to play. Karunaratne gets on to the back foot and pokes his bat at that. The extra bounce means that the ball takes his gloves and lobs straight in to the waiting hands of Rahane at first slip.  SL 135 and 26/2 
R Ashwin is brought in to bowl.
10.09 IST: Swinging delivery around off, Malinda again feels for it and sees the ball whiz past the edge.  3 runs from Shami's over.  SL 135 and 26/1 in 15 overs 
Mohammed Shami to bowl from the other end.
10.02 IST: FOUR! First runs of the day, courtesy a boundary. Loopy full ball around middle and leg, Karunaratne flicks it wide of mid on. Dhawan from mid on gives a valiant chase and puts in the dive as well, unsuccessfully. SL 135 and 23/1 in 13.3 overs
09.59 IST: We are ready to get rolling. Dimuth Karunaratne and Malinda Pushpakumara to continue their innings. Kuldeep Yadav to start off with the ball today. Here we go...
09.51 IST: Words of Advice! 
Words of wisdom for @hardikpandya7 from bowling coach Bharat Arun #TeamIndia #SLvIND pic.twitter.com/V5tD2ubIde

— BCCI (@BCCI) August 14, 2017
09.45 IST: Pitch Report - Simon Doull reckons that there are a few visible cracks, but nothing alarming as such for the batsmen. There are rough patches around 2.5 m away from where the batsman stand, he observes. He adds that he doesn't see much trouble for the batsmen.
09.35 IST: Some pep talk ahead of an important day. 
Team talk! Coach @RaviShastriOfc at it #TeamIndia #SLvIND pic.twitter.com/mjJ0YJfQUf

— BCCI (@BCCI) August 14, 2017
09.30 IST: 
Shades of grey ahead of Day 3 #SLvIND #TeamIndia pic.twitter.com/Ulp8Mw0xUR

— BCCI (@BCCI) August 14, 2017
Brief Preview: 
India is in a winning position in the third and final cricket test as Sri Lanka, following on, reached 19 for one at stumps on the second day Sunday. The hosts still need 333 runs with nine wickets in hand to avoid an innings defeat.
Seam bowler Umesh Yadav bowled Upul Tharanga (7) off the inside edge. Dimuth Karunaratne is batting on 12 with night watchman Malinda Puhspakumara yet to score.
Earlier Indian spinner Kuldeep Yadav took four wickets to help India end Sri Lanka's first innings on 135. India was dismissed for 487 in its first innings backed by centuries from Shikhar Dhawan and Hardik Pandya.
India is eyeing a series whitewash having won both the previous tests convincingly.
 
When Sri Lanka came out to bat in the first innings seam bowler Mohammed Shami had Tharanga (4) and Karunaratne (5) caught by wicketkeeper Wriddhiman Saha while Kusal Mendis was run out for 18.
Pandya, who smashed a maiden test century earlier, returned with the ball to trap Angelo Mathews lbw without scoring leaving Sri Lanka on 38 for four. (Read Full Day 2 Report)