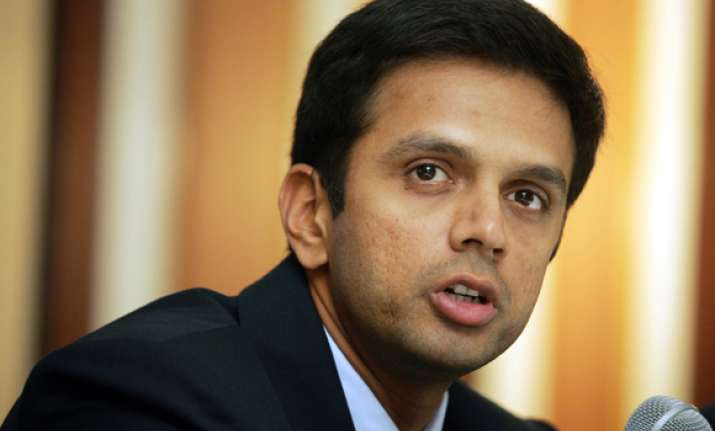 Mumbai: The all-round ability of the current Indian cricket team excites former captain Rahul Dravid, who feels Mahendra Singh Dhoni's men are a certainty for at least the semifinals of the World Twenty20 Championships.
Dravid, who was here for the Laureus Sport for Good programme 'Magic Bus' in his capacity as a member of its World Sports Academy, said India looks to be the most "formidable" team of the tournament, the main draw of which gets underway from March 15.
"I think India would make the top four, but after that, it's just a question of who has a better day in the semifinal and final... There's a good crop of players coming through. I think it's going to be an exciting 24 months for the Indian team. I think the good thing about this Indian team and this T20 World Cup is they have good depth, they have good all round depth at the moment," Dravid said.
"Players like Hardik Pandya and Pawan Negi, it just shows that they have got sort of batting right down to No. 8, 9.
They have got six or seven bowlers to call upon in Indian conditions that they can use.
"So I think it gives them sort of a good range of all around ability, and then with Ashish Nehra bowling well up front and Bumrah bowling well at the depth, they have actually got the two areas which India were struggling in covered. This is a pretty formidable side at the moment and I think the all around ability of this team is what excites me," he added.
Dravid said the Indian team's next target should be to fetch good Test results abroad.
"I think it is a very exciting time for Indian cricket at the moment. The results in sort of One-Day and Twenty20 cricket have been really good over the last couple of years or so and it has been reflected in the ranking, as well," he said.
"Even in Test cricket, India finds itself up there in the rankings and largely because they have had great results in home conditions. The next challenge, really for this team, is to start performing and get results overseas. But things are beginning to turn with the win in Sri Lanka, and hopefully that you they can go beyond the subcontinent and produce those results.