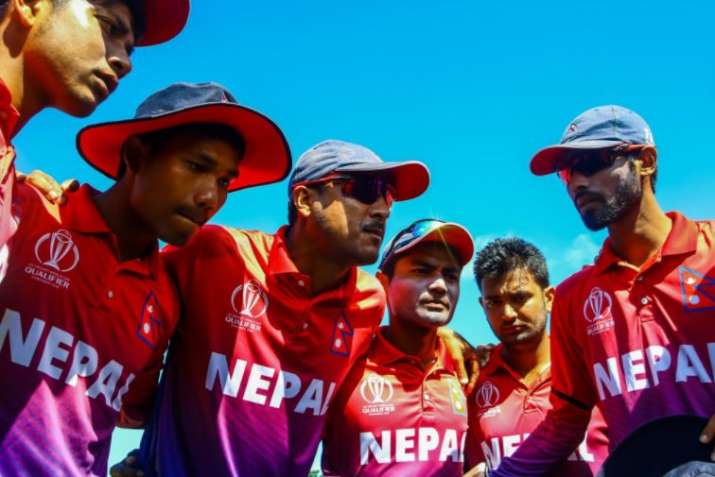 Nepal has been rewarded with One Day International (ODI) status for the first time ever and the nation has created a history on a monumental occasion on Thursday (March 15) in the World Cup qualifiers play-off encounter at the Old Hararians Sports Club. A six-wicket win over Papua New guinea in the WC qualifiers is not just any win for the nation, but a new chapter in international cricket.
Nepal bowlers Dipendra Singh Airee and Sandeep Lmichhane's four-wicket hauls helped their team restrict PNG to an achievable total of 114 runs. Airee performed well with the bat as he starred in the chase with his fifty of 58 deliveries, concluding the match with a six.
Nepal received ODI status after defeating PNG but it was all dependant on Netherlands. The Dutch team defeated Hong Kong by 44 runs and Nepal only needed to defeat PNG in order to establish ODI status which they achieved by six-wickets. 
An emotional winning captain Paras Khadka said that their hard effort has finally paid off.
"It's massive, it's something we have worked towards for a very long time," said the winning captain Paras Khadka.
"As a team, we've been pushing ourselves. We're very glad that we're winning games through different situations, players are standing up and everyone's contributing.
"As a captain, I'm happy to lead such an amazing bunch of boys."
Thank you everyone for the support..Just been years and years of toil,persisitance,sacrifices,commitment and hardwork..Finally WE BECOME An ODI nation..
Congratulations to everyone who has been part of Nepal cricket's incredible journey ..
God Bless..!!!

— Paras Khadka (@paras77) March 15, 2018
Indian Premier League's first Nepal player Lamichhane took to twitter as well.
"A big proud day for all the people of Nepal," Lamichhane, who was the first Nepalese to be signed for the Indian Premier League earlier this year, wrote on Twitter.
To the well wishers of Nepal Cricket : Its the "Result" of Years of "Hard Work" ! Years of "Patience" ! Hard work of many "Legends" and here we are now. A big proud day for all the people of Nepal🇳🇵What a beautiful journey so far. Together its Possible. Nepal - An ODI Nation ! pic.twitter.com/Vvbp1go5yq

— Sandeep Lamichhane (@IamSandeep25) March 15, 2018
Nepal were awarded Affiliate status by the International Cricket Council first in 1988 and in a span of eight years they were promoted to Associate rank in 1996. 
In 2010, Nepal were winners in Division 5 and in the same year they finished third in Division 4, two years after which they were crowned champions in 2012.
Cricket legends such as former Australian skipper Michael Clarke, former Pakistan swashbuckler Inzamam ul Haq and Mushtaq Ahmed took to Twitter to congratulate the nation on achieving an ODI status.
👏👏👏👏👏👏👏 congratulations buddy to you and all the people of Nepal https://t.co/E4emWlTnIv

— Michael Clarke (@MClarke23) March 15, 2018
Congratulations to Nepal! 🇳🇵

They will be an ODI team following #CWCQ after it was confirmed they will face Netherlands in the 7th place play-off! pic.twitter.com/t4zidcO4j1

— ICC (@ICC) March 15, 2018
Congratulations to Nepal on getting the ODI status. Way to go lads. A historic day for your country.

— Mushtaq Ahmed (@Mushy_online) March 15, 2018
Dreams do come true, don't they? Congrats Nepal on ODI status. Quite excited to see you guys in the ODI arena. #NeverGiveUp

— Waqar Younis (@waqyounis99) March 16, 2018