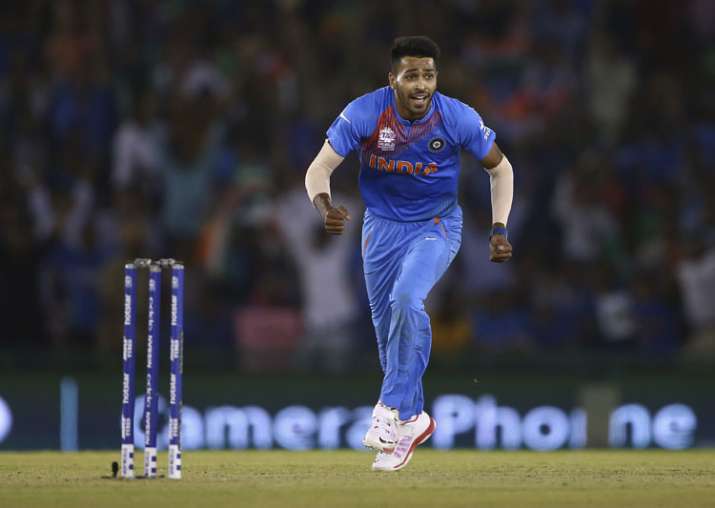 In his so far short international career, Hardik Pandya has proved that he is indeed the the "ideal all-rounder" that the Indian team has been aspiring since the departure of legendary Kapil Dev.
The 23-year-old Pandya played crucial knocks in the first and third ODIs against Australia, which eventually helped India to take an unassailable 3-0 lead in the five-match series.
In the first ODI in Chennai, Pandya struck a blistering 83 to power India's 26-run win (DLS Method) against Australia. Meanwhile, in the third ODI in Indore, Pandya blasted a fluent 78 as India registered a comfortable five-wicket win over Australia in the third ODI to grab the number one spot in the ICC ODI rankings.
Pandya's performances have made him cynosure of all eyes with pundits calling him the next Kapil Dev.
And now, Kapil Dev too praised has Pandya, saying that the young all-rounder has the talent and ability to become a great player.
Speaking at a press conference, Kapil said: "Hardik Pandya is better than me. But he has to do a lot of hard work."
Kapil, who led India to their first-ever World Cup triumph in 1983, said Pandya should not be put under a lot of pressure.
"It is still too early. We should not create unnecessary burden on him. He has the talent and ability to be a great player," Kapil added.
Pandya has so far played in three Tests, 24 ODIs and 19 T20Is. He has scored 178 runs in Tests, 489 in ODIs and 100 in T20Is. As far as his performance with the ball is consiedered, Pandya as taken 4 wickets in Tests, 28 in ODIs and 15 in T20Is.
Whereas, Kapil is the greatest fast-bowling all-rounder India has produced. He represented India in 131 Tests, scoring 5248 runs and taking 434 wickets. Meanwhile, he played 225 ODIs, amassing 3783 runs and took 253 wickets.
He also said that Mahendra Singh Dhoni forms the backbone of the Indian team and should be respected for what he has achieved as a player.