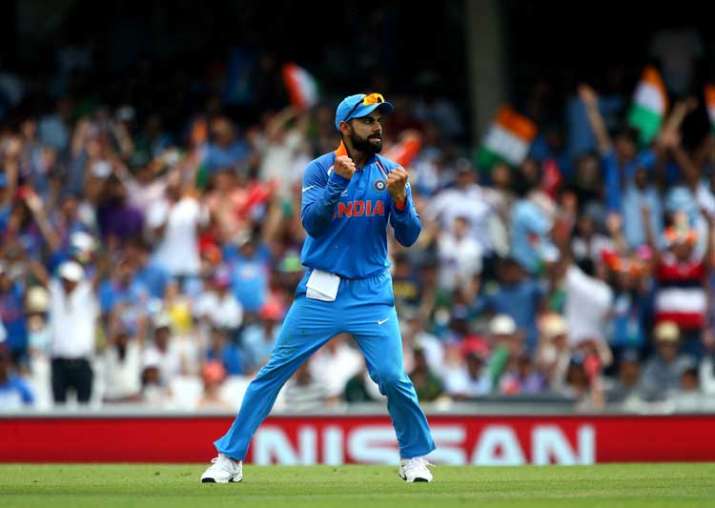 Post the Sachin Tendulkar-era, we were searching for another 'batting god' in the 1.25 billion country to whom we can look upon for the next decade and admire his every on and off-field move that impacts our life in a way or the other. 
It's not that apart from 'God' Sachin Tendulkar we didn't have any cricket legends to boast or write about; in fact, we have a long list of such stars to whom we used to adore and worship for their sheer cricketing genius. Be it the little master Sunil Gavaskar, the Haryana Hurricane Kapil Dev, the Wall Rahul Dravid, Dada Sourav Ganguly or Jumbo Anil Kumble, we were never short of heroes who stole our hearts and occupied our minds day in and day out with their superlative performances.
If we count the modern day masters - the names like 'Captain Cool' - MS Dhoni, Yuvraj Singh, the 'Nawab of Najafgarh' - Virender Sehwag or 'Pace ace' - Zaheer Khan will automatically come to our mind without stressing much.
However, despite all these big names - India was searching for that one cricketing master who will inherit the legacy of Tendulkar in terms of record fan following and mind-boggling numbers which an average Indian cricket fan casually brings in almost every other conversation just to assert the authority of our nation in the cricket world.
Then we witnessed the rise of 'Virat Kohli', a Delhi-born cricketer who caught our imagination by becoming only the second India captain to win the Under-19 World Cup in 2008. The outstanding feat announced the arrival of a young and talented Kohli to the cricket world. However, apart from being blessed with incredible talent - monikers such as brash, arrogant were also attached to Kohli's impressive resume. 
Before he being written off due to his uncharacteristic attitude, Kohli quickly realized the need of the hour and made some changes in his approach to excel at the highest level. Some self-introspection and expert guidance from the seniors allowed Kohli to bounce back even stronger and determined than ever before.
The Kohli brand of cricket has been marked by in-your-face aggression. He loves a scrap and wants to be the dominant force in the middle at all times. Sometimes this has riled critics as much as opponents, but it has also paid him rich dividends.
In the last two or three years, Kohli has taken some real giant strides towards cricketing immortality every time he goes out to bat these days. After making a few changes to his mental and physical approach, the Indian skipper has scored runs and centuries prolifically, and with a mastery that marks him out as an extraordinary cricketer with an exceptional talent. The ability to shift gears comes from a sharper understanding of rival bowlers and match situations puts him a notch above his contemporaries. 
In the recently concluded ODI series against New Zealand, Kohli scored two centuries in three matches and ended the series as the highest scorer on either side. He scored 263 runs which is the most by any Indian batsman in the 3-match ODI series. These stats not only helped him regaining in the No.1 ranking for batsmen in ODIs from his good friend AB de Villiers but also swelled his run tally in 2017 to 1,460-the highest by any captain ever in one year.
During the course, the 'run-machine' Kohli surpassed the former Australian skipper Ricky Ponting (30 hundreds) to claim the second spot in ODI list for the most number of centuries. Now, Kohli (32) is only behind master blaster Sachin Tendulkar, who occupies the top spot with 49 tons in the one-day format of the game.
Kohli has only played 202 ODIs compared to Ponting and Tendulkar who had played 375 and 463 ODIs to their name respectively. His ODI-career run aggregate stands at 9030 runs in just 202 matches, the number of centuries has swelled to an astonishing 32, the average is 55.74 and the strike rate is 91.73. These statistics find few parallels. Even Tendulkar and Ponting averaged close to 44 and 42 respectively in the ODIs.
Virat Kohli has managed 1460 runs in 2017 with an average of 76.84 punctuated with 6 hundreds and 7 half-centuries in 26 matches this year. Thereby, he not only surpassed the Indian record of 1268 runs (ave.43.72) in 37 matches by Mohammad Azharuddin in 1998. But he also overtook Ricky Ponting's record of 1424 runs in 2007. 
As far as other personal milestones are concerned, Kohli has also become the fastest to reach 9000 ODI runs. He is also the fastest to reach 5000 runs as a captain. As a skipper, Kohli now has 10 ODI centuries, 10 ODI fifties and 10 Test hundreds.
The hallmark of great players is not merely intrinsic ability, but the capacity to raise their game a notch or several when the pressure is on. They thrive under such tough situations, they sense the opportunity and put their best forward to excel even further.
Since taking over the captaincy reins from India's most celebrated skipper MS Dhoni, Kohli has enjoyed tremendous success in all formats of the game. With a 2-1 win against New Zealand in the ODI series, India register not only their seventh consecutive bilateral series win but also skipper Kohli's seventh successive series victory. This is also the most by any Indian captain.
The best part is Kohli didn't try hard to live up to his status as the game's most celebrated current batsman; it was his growing maturity as a cricketer and sense of responsibility as captain that shone through.
With MS Dhoni's on-field guidance, it appears that Kohli is slowly learning to the nuances that will help him in the future to excel not only as a leader but also a player. His natural instincts with astuteness will make Kohli even more formidable in the future. 
Kohli's constant comparisons with batting greats like Tendulkar or Sir Viv Richards make for an interesting debate but it can never be conclusive. It would be unfair if we do so, but at the moment, we can only sit, enjoy and celebrate the sheer genius of a player like Virat Kohli and continue to revel till his enigma lasts in our minds and hearts in the years to come.
Happy B'day, Captain!