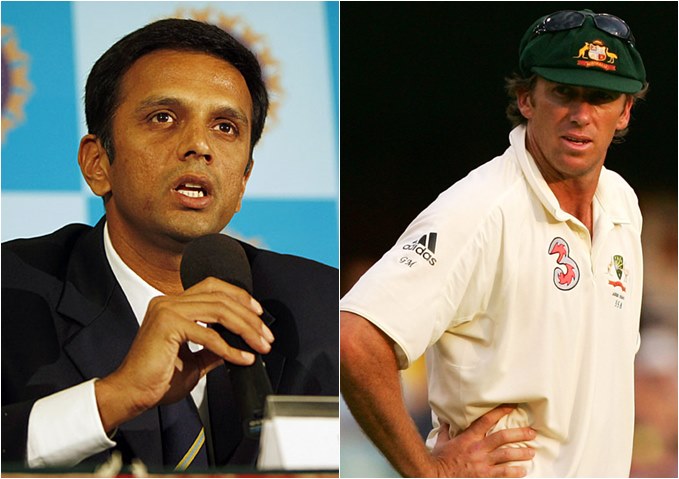 India's batting legend Rahul Dravid, popularly known as the 'dependable', on Friday admitted that the greatest fast bowler he had faced was Aussie pacer Glenn McGrath.
"They (Australia) were the best cricket team in my generation. Amongst them all, the greatest bowler that I played against, not only the greatest Australian bowler, but the greatest fast bowler (that) I played against has to be Glean McGrath," said Dravid, who was known for his impeccable defense, at an event in Mumbai.
"He (McGrath) was absolutely (brilliant), no one challenged my knowledge of the off-stump as much as McGrath did. He was relentless and gave you nothing. A lot of times, whether he is bowling in first hour of the morning or late in the afternoon or in the evening, he (McGrath) was going to give you nothing, he was relentless (and the) accuracy," said Dravid, who scored a whopping 13,288 runs in 164 Test matches.
Heaping praise on the legendary Australian fast bowler, Dravid said, "He was not mean as he looked, but he could be very very mean with the cricket ball because he gave you nothing. He was one of those guys you, while batting, think how to score a run and where is the extra-run going to come from. He just had that level of accuracy and control.
"He had good pace, bounce but a good game sense as well. McGrath was probably the greatest fast bowler I played against," said the former India captain, who has scored heavily against the Australians.
Back in 2015, Glenn McGrath picked up the five batsmen he "greatly admired".  Apart from Sachin Tendulkar and Brain Lara, McGrath included Rahul Dravid in his list.
"Such a quality batsman, worked hard at his game," McGrath had said of Dravid.
"I really had to work hard to get him out. Once he got in, had the concentration to bat on and on. If there was one person who you wanted to bat for your life, it would be Dravid," McGrath had said.
McGrath, regarded as one of the greatest bowlers in the history of the game, had taken 563 wickets in 124 Tests and 381 wickets in 250 ODIs.
(With PTI inputs)