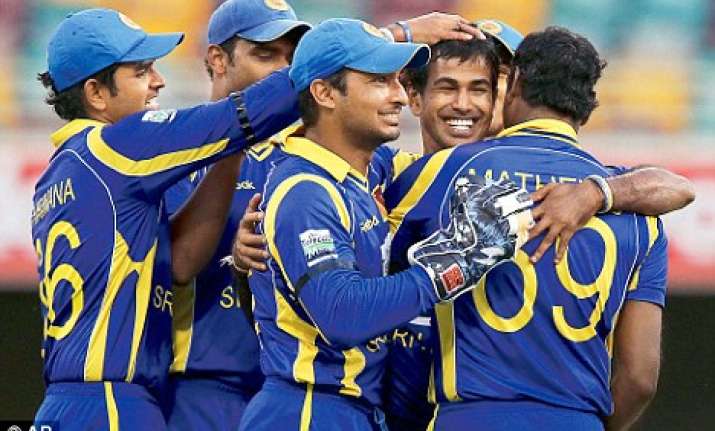 Kolkata: Happy to carry the tag of "underdogs", defending World Twenty 20 champions Sri Lanka are not considering Afghanistan as minnows but are confident of starting their title defence on a winning note against the Asian side at the Eden Gardens here on Thursday.
"Coming in as underdogs, it releases the pressure off the players. We haven't done well in the recent past especially in the Asia Cup, but we are getting better with each game. We are very confident with our progress," Sri Lanka captain Angelo Mathews told mediapersons here a day ahead of their opening group encounter against Afghanistan.
"You can't call Afghanistan as minnows. In the qualifying stages they beat their opponents easily. We are taking them seriously because on a given day they can upset any team. We have to play really good cricket to beat them," said the all-rounder.
"When the last time we met, they played really well and we had to fight hard to defeat them," said Mathews referring to their 2014 Asia Cup encounter which the Islanders won by 129 runs.
Mathews also said the team will take a call on bowling spearhead Lasith Malinga who is nursing an injury on Thursday.
"We are yet to get a yes or no from the physio. Today Lasith bowled a couple of overs with a shortened run up at the nets. Tomorrow we will have a net session where he will bowl with full run up and the physio will assess his condition," he said.
Admitting Sri Lanka's performance has been poor in the recent past, Mathews exuded confidence of getting their title defence on track.
"We are the defending champions but we are not looking too far ahead, we just want to take one game at a time. We have not done well in the recent past. So we want a win in our back and concentrating on tomorrow's game. We had a couple of practice games where we did well, we are getting better and are very confident with our progress," he said.
Mathews, who had said he wasn't ready for captaincy when he was given the job just ahead of the World Twenty 20, asserted he was ready for the task of getting the best out of his team.
"Actually I misspelled when I said I wasn't ready for captaincy, actually I wasn't expecting it. I have been part and parcel of the team for last few years, so captaincy is not all a burden for me. My task is to get the maximum out of the players and I am very confident of doing that," he said.
Mathews also said the team was banking on Lahiru Thirimanne and Dinesh Chandimal in batting and experienced left arm spinner Rangana Herath to play as a wicket taker.
"Herath has lot of experience having played for the team for so long. We want him to play as wicket taking bowler. He is experienced enough to contain the batsmen but his role will be to take wickets," said Mathews.
Asked if spin will be a dominant force in the tournament, he said: "It will depend on the wickets. Generally wickets in India suit spinners but if pacers can vary their pace they can also do well".