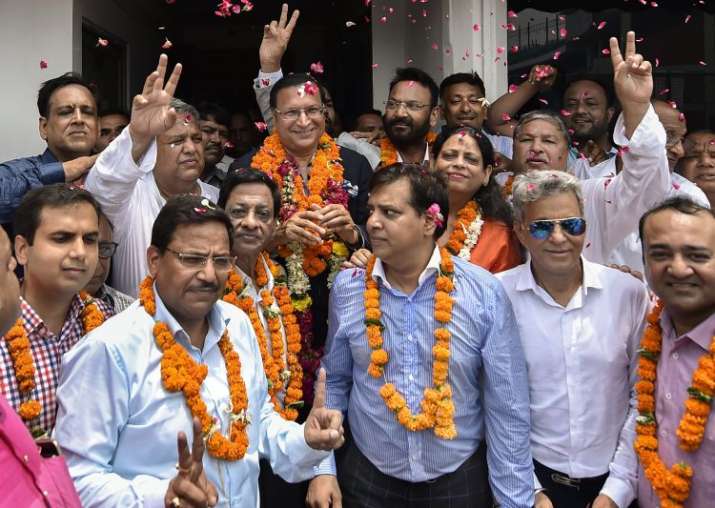 The Delhi & District Cricket Association (DDCA) made some key appointments on Thursday. Mr Ravi Kant Chopra has been named as the Chief Executive Officer (CEO), Mr PC Vaish has been made the Chief Financial Officer (CFO) and Mr GR Saxena has been appointed as the Chief Operations Officer (COO).
All the three appointments have been made as per the recommendation of the Justice Lodha Committee and in accordance with related orders of the Supreme Court.
Mr Chopra, who belonged to Indian Defence Estates Service (IDES:1978), has held the position of Director General, Defence Estates, Ministry of Defence, Government of India. An MA, LLB, he holds a Diploma in Public Administration from IIAP, Paris. He is a member of Delhi Bar Council, and a Life Member and Fellow of Indian Council of Arbitration. He has also worked as Senior Adviser at the Max Institute of Health Education and Research (MIHER). As DG, Defence Estates, he was the custodian of 17.5 lakh acres of defence land spread all over India, and supervised the civic administration in 62 cantonments across the country. He also worked as Principal Staff Officer to the Cabinet Secretary, Government of India for two years. 
Mr Vaish has been Chairman & Managing Director of National Textiles Corporation Ltd (NTC). Earlier, he worked as Chief Manager, Finance, at NHPC (National Hydroelectric Power Corporation). A Chartered Accountant of November, 1982 batch by profession, Mr Vaish has chaired the boards of directors of several textile companies in the private sector. 
Mr Saxena worked as Senior GM, HR & Administration in Indian Express Newspapers (Mumbai) Ltd, and later as Senior Vice President - HR & Administration at The Indian Express Pvt Ltd. His experience in HR & Administration spans a period of nearly 30 years.
Making the announcement, DDCA President Mr Rajat Sharma said: "I am excited to have such experienced individuals to look after the day-to-day affairs of our association. These individuals have vast acumen and talent, and I am confident they will bring about fundamental and transparent changes in the working of Delhi's cricket body. I look forward to working with them in the coming weeks and months."
Meanwhile, the new CEO of DDCA, Mr Chopra said: "I am honoured to be entrusted with this significant responsibility given by DDCA. It shall be my constant endeavour to be of service to the game of cricket and bring smiles on the faces of every Delhi cricketer and cricket lover."
A few days earlier, the DDCA had formed a Cricket Committee, including the likes of Virender Sehwag, Gautam Gambhir, Aakash Chopra and Rahul Sanghvi in the team. The committee has been tasked to chalk out the roadmap for Delhi cricket along with powers to select coaches, selectors and other issues related to the game.