Follow us on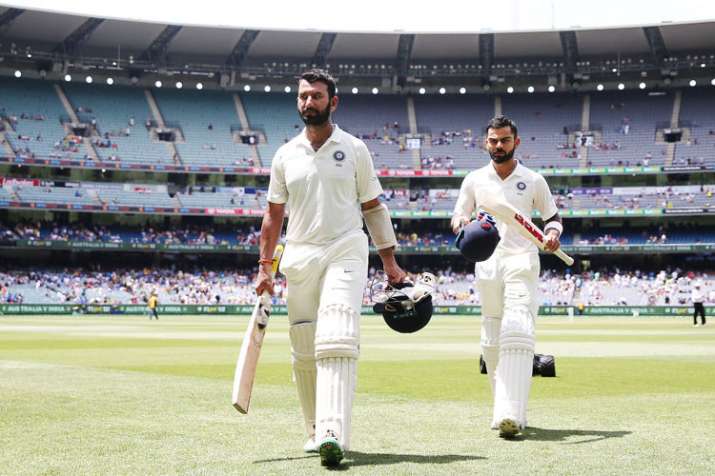 No one had a doubt about who will be India's key player in the Test series against Australia, where India triumphed 2-1 in four-match Test series. 
Everyone was rooting for skipper Virat Kohli, who is currently ICC No.1 ranked batsman, but, Test specialist Cheteshwar Pujara got the better of him.
Pujara had a memorable Australian Test series in which he scored 521 runs in 7 innings with three centuries against the fierce Australian bowling line up which included the likes of Mitchell Starc, Josh Hazlewood, Pat Cummins and Nathan Lyon. 
While Kohli managed to score 282 runs in 7 innings which did not match his standards, Pujara was chosen Man-of-the-Series for his heroics that guided India to their first ever series win at Australian soil.
In an interview with Cricbuzz, Pujara, who is calm in nature which is quite opposite to the aggressive Kohli, talked about what is his equation with the Indian skipper.
"Not at all. Ultimately, he (Kohli) also understands what is required to win. Many times I've given him suggestions and he has been more than willing to accept them. He might have a different personality but that's his nature and that is how he should be. There's nothing wrong in that. 
He can behave the way he wants to as long as he respects the game. He hasn't been disrespectful to anyone else. Sledging is something which he likes at times. And there is nothing wrong in that. He also respects my nature," said Pujara when asked if they had a fallout ever due to their different nature.
There has been a lot of debate going around regarding the type of ball (Dukes ball, SG Test or Kookaburra) which should be used in Test cricket. Pujara had a clear answer regarding the ongoing issue.
"I think we should stick to the SG ball in India because in our domestic cricket we play with the SG ball and the player gets used to playing with this ball, whether he is a batsman or bowler. You know what it does with the new ball, with the old ball. So I don't think we should change at all. The debate was on the quality of the ball. 
"The BCCI has communicated with SG and during the semifinals, we got a different quality of ball. They worked on it and it is better now," Pujara concluded.