Follow us on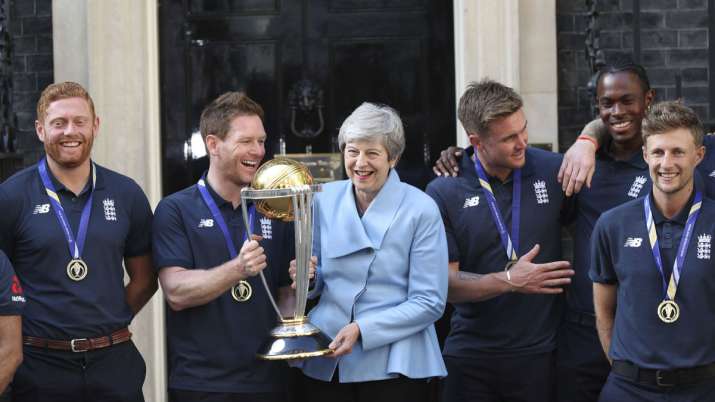 Britain Prime Minister Theresa May congratulated the England cricket team after their success in the ICC Cricket World Cup 2019 and said that the team has helped the nation fall in love with the sport once again
May hosted a reception for the Englishmen at 10 Downing Street on Monday night after they somehow managed to beat New Zealand in the final at Lord's Cricket Ground in London.
"All combining to create a real thriller, one of the great sporting spectacles of our time," said May.
She told the England squad: "You are a team that represents modern Britain, and that plays like no other side in the world.
"When the odds were against you in the biggest game of your lives, you simply and stubbornly refused to lose. It is that determination, that character, that has made you world champions," she said.
"You have helped the nation fall in love with cricket once again," she said, adding, "we have a team that will be spoken of in awe for generations to come."
After more than nine stomach-churning hours, the first Super Over in Cricket World Cup history, and one of the most extraordinary overs ever played, England ended its agonizing 44-year wait to be world champion of the sport it invented.
"The most ridiculous game of cricket to have ever been played," was how Buttler, England's wicketkeeper, summed up a crazy World Cup final against New Zealand on Sunday that had pretty much everything.
A sporting contest for the ages finished with England winning courtesy of a tiebreaker that few inside the home of cricket had likely ever heard of, or even understood: Boundaries countback.
That was because England and New Zealand — both bidding for a first Cricket World Cup title — couldn't be separated after the regulation 50 overs a side (each team scored 241) and then a nerve-shredding Super Over (both teams scored 15) played in early evening sunshine in northwest London.
In the end, England prevailed because it hit a total of 26 boundaries — fours and sixes scored across both the 50 overs and the Super Over — compared with New Zealand's 17.
"The guys are shattered," New Zealand captain Kane Williamson said. "It's devastating. Tough to swallow."
It was a slow-burner of a final that reached an astonishing crescendo at Lord's.
(With inputs from AP)