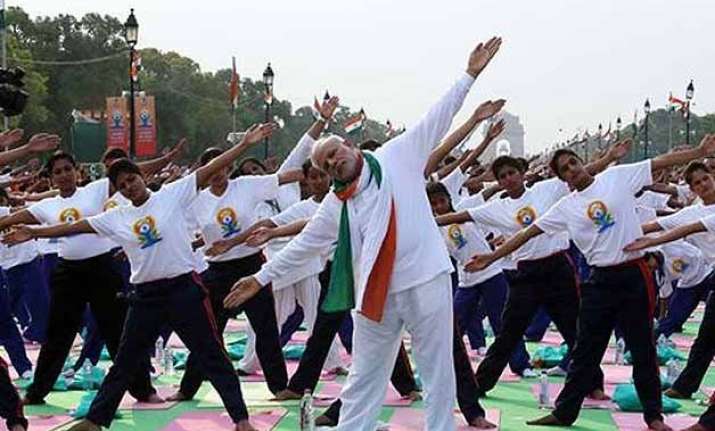 New Delhi:  Over Rs 32 crore were spent on organising the first International Yoga Day which was celebrated on June 21, the government today said.  "The total funds earmarked or spent by the AYUSH Ministry and Ministry of External Affairs were Rs 828.43 lakh for publicity through DAVP, DD and AIR, Rs 758.53 lakh on arrangements for mass yoga demonstration at Rajpath and Rs 182.8 lakh for the international conference on yoga at Vigyan Bhavan.
"The Ministry of External Affairs spent Rs 800 lakh. In addition, the Central Council for Research in Yoga and Naturopathy (CCRYN) and Morarji Desai National Institute of Yoga, incurred expenses of Rs 670 lakh as part of financial assistance to government institutions, NGOs for organising yoga camps and celebrations in each district," AYUSH Minister Shripad Naik informed Lok Sabha.
He said that an amount of Rs 34.80 lakh has been spent on production of films and booklets on common yoga protocol.  He said that the main event was organised on Rajpath where 35,985 participants performed yoga. A two-day international conference on yoga was also organised on June 21-22.
He said all the states were advised to hold mass yoga demonstration at state, district, block and panchayat levels.  The MEA celebrated the IYD in more than 190 countries by organising activities.
He said that CCRYN is in the process of establishing central research institute at six places with 100-bedded yoga and naturopathy hospital.
HRD Ministry has informed that the national curriculum framework 2005 which is a policy document for the country recommended yoga as an integral part of health and physical education. Health and Physical education is compulsory subject from class 1 to 10 and optional from class 11 to class 12, he said.
The minister said that yoga education has been made compulsory part of study and practice by National Council for Teacher Education for its 15 teacher education programmes.  He said that NCTE has already developed modules on yoga education for diploma in elementary education and master of education. These will be used by more than 18,000 teacher education institutions and above 14 lakh student-teacher educators.