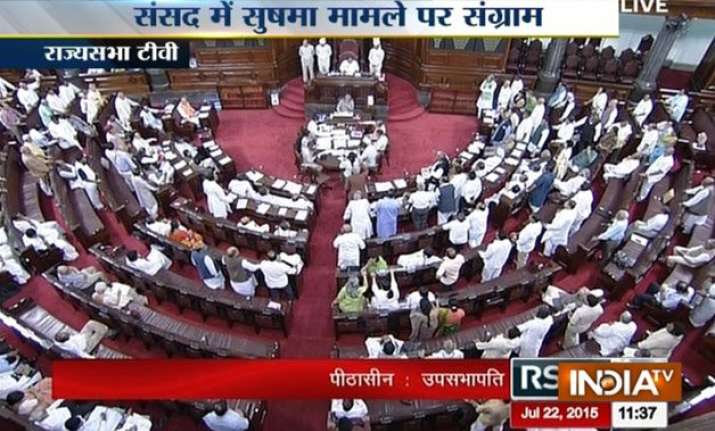 New Delhi: Opposition parties led by the Congress created a ruckus in both the Houses of Parliament on Wednesday over the Lalit Modi issue, forcing repeated adjournments.
Highlights:
* Both Houses of Parliament adjourned till tomorrow 11 AM
* Opposition is weak on arguments, strong on disturbances: Arun Jaitley
* Sushma Swaraj kept her points across us in BJP Parliamentary party meet, we want them to be presented to nation and opposition: Arun Jaitley
* No body (opposition) has been able to point out which is the law that External Affairs Minister has breached: Arun Jaitley
* Investigation happens when there is breach of legal provision, but when we asked opposition about this, they had no answer: Arun Jaitley on Lalitgate
* First you (Sushma Swaraj) resign and then give clarification: Sharad Yadav
* We are not saying Madhya Pradesh govt should be dismissed or Modi govt should fall. We want individual resignations, then discussion: JD(U)'s Sharad Yadav
* What we are doing is not wrong. It is necessary to bring to the attention of the nation: Congress leader Mallikarjun Kharge
* We have requested the Speaker that we want decorum in the House: Rudy
* We challenge the Congress within Parliament and outside parliament that we are ready for any debate: BJP's Rajiv Pratap Rudy
* Sushmaji has requested that she wants to give her statement on the baseless allegations on her: HM Rajnath Singh
* Very unfortunate that even though Sushmaji wants to make her statement, she is not being allowed to: Rajnath Singh
* Rajya Sabha adjourned till 2 pm
* Rajya Sabha functioned only for 8 minutes after it reconvened at 12:30PM, uproar in House
* Lok Sabha adjourned till 2 pm
* Rajya Sabha adjourned thrice over Lalitgate
* House is there to debate, decide and discuss: Venkaiah Naidu
* There are charges against ministers & leaders of 7 Congress ruled states, are they going to resign?: Venkaiah Naidu
* Congress is supposed to be a mature party. I dont know who told them of this "kaala patti" practice in the Parliament: Venkaiah Naidu
* Meeting in Venkaiah Naidu's chambers in Parliament underway. Sushma Swaraj, Rajnath Singh, Arun Jaitley, Nitin Gadkari, Sushilkumar Shinde and Jyotiraditya Scindia in attendance.
* Rajya Sabha adjourned till noon
* Prime Minister Narendra Modi tells BJP MPs that they should be proud of government's work: Naqvi
* Sushma Swaraj tells BJP Parliamentary Party she offered no help to Lalit Modi and also defends MP govt over Vyapam issue: Naqvi
* I will speak inside the Parliament: Sushma Swaraj on her tweet
* Rajya Sabha was also adjourned for 15 minutes
* Lok Sabha adjourned till 12 noon
* Speaker Sumitra Mahajan rejects adjournment notice
* Mallikarjun Kharge and Veerappa Moily move adjournment motion in the LS on Lalitgate issue
* There will be no resignations, asserts Union Minister Mukhtar Abbas Naqvi after BJP Parliamentary Party meeting
* Let them say what they want we will continue to protest: Sonia Gandhi told NDTV
* Congress calls off protest in front of the Gandhi statue in Parliament
* We will speak in the Parliament: Rahul Gandhi on Sushma Swaraj's tweet
Earlier in the morning, Swaraj said a senior Congress leader had pressed her hard to give diplomatic passport to a scam accused Congress leader.
"A senior congress leader was pressing me hard to give diplomatic passport to the coal scam accused Santosh Bagrodia," Swaraj tweeted.
Yesterday, she had offered to give a statement in Parliament about Congress' allegations over her links with former IPL chief Lalit Modi.
She also said she will disclose the name of the Congress leader in Parliament.
"I will disclose the name of the leader on the floor of the house," she said in another tweet.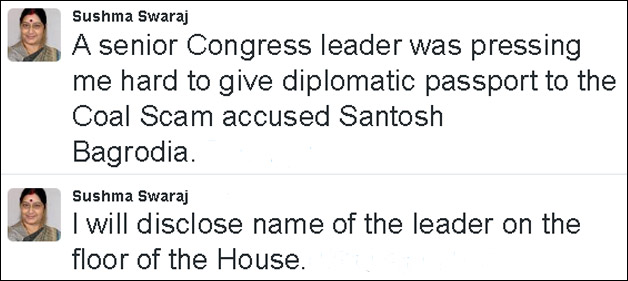 Swaraj is facing ire of the opposition led by Congress which is demanding her resignation for helping controversial former IPL Chief Lalit Modi get travel documents.
The Congress yesterday disrupted Rajya Sabha over the issue on the opening day of the Monsoon Session. It rejected the government offer of a statement by Swaraj and a debate, saying she must resign first.