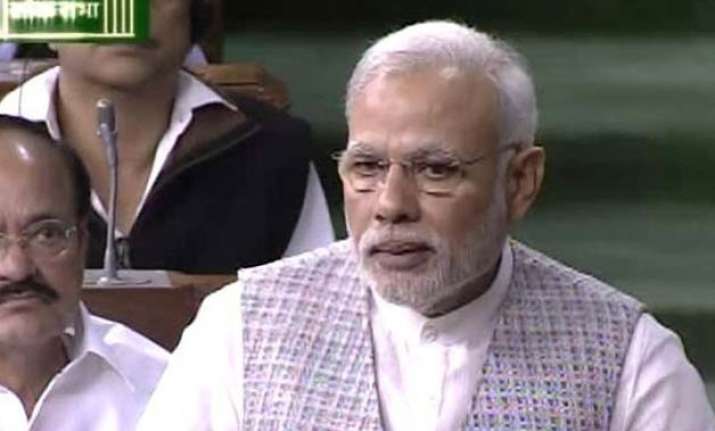 New Delhi: Making a strong statement in the Parliament over the release of J&K separatist leader Masarat Alam, Prime Minister Narendra Modi said that the state Chief Minister is taking decision unanimously.
He further said that he was pained by the state government's decision.
Modi also asked the Opposition not to teach him patriotism as BJP has sacrificed many of its leaders for the freedom and integrity of the country.
ALSO READ: Mufti govt's decision to release Masarat Alam puts MHA on toes
Below are updates of his statement:
This is not the anger of a political party, this is the anger of the entire country, of a unified Parliament
We asked for a clarification on the Masrat Alam issue, when it comes we will inform you (Opposition)
Do not teach us patriotism: Modi tells Opposition
Assure the nation that there is no compromise on the unity of the nation
Whatever action is being taken in J&K is being taken without consulting coalition partner or with Central government
ALSO READ: After Masrat, Mufti to release another separatist leader Ashiq Hussain Faktoo
I assure the House and country, Central government has not been consulted on decisions taken by J&K government
I share the anguish of the House and the people of nation
I am in sync with the outrage that is being asserted in the nation and the Parliament
Union Home Minister Rajnath Singh told the House that the Centre is not satisfied with the report of the Home Department of Jammu and Kashmir government.
"We are not satisfied with J&K Home Department's reply on Masarat Alam's release and sought further clarifications. Will issue strongest advisory, if needed," he said.
He further informed that there are 27 criminal cases, including murder, sedition and conspiracy, pending against Masarat Alam.
Alam was detained 8 times, Singh said, adding that 'our govt will not compromise on the issue of public safety and public security'.