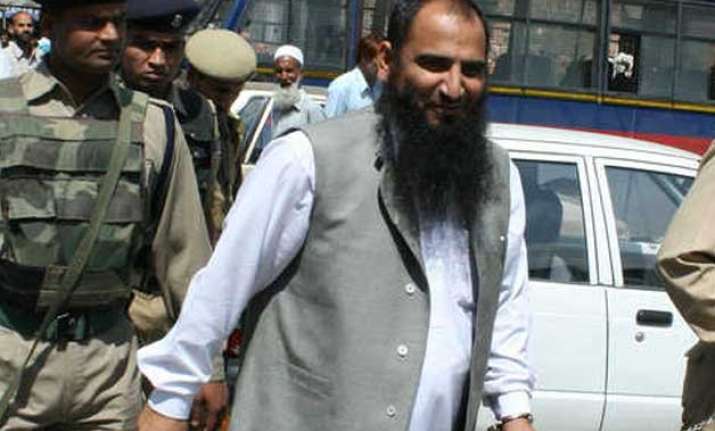 New Delhi: The officials of the Jammu and Kashmir division in the Ministry of Home Affairs (MHA) yesterday worked overtime and held discussions on gathering all facts and circumstances leading the release of separatist leader Masarat Alam.
The MHA has sought a detailed report from Jammu and Kashmir government on freeing Alam, who has over 15 cases pending against him.
Sources said that 15 cases pending against him include those registered under section 120 and 121 of Ranbir Penal Code (waging war against the country) and the Unlawful Activities (Prevention) Act.
The Joint Secretary, MHA, who heads the J&K division, also briefed Rajnath Singh who later apprised the Prime Minister's Office (PMO) on latest developments related to the case.
ALSO READ: After Masrat, Mufti to release another separatist leader Ashiq Hussain Faktoo
It should be noted that as many as six policemen were promoted when Alam was arrested in October 2010 from Harwan area on the outskirts of Srinagar city. At that time, the state government had alao distributed of Rs 10 lakh cash reward to the cops and informers.
The MHA has also sought legal opinions on the matter.
Alam is also accused of masterminding the 2010 stone pelting incidents in which over 100 men were killed.
ALSO READ: Govt did no favour, my release part of judicial process: Alam
Home Secretary LC Goyal yesterday spoke to Jammu and Kashmir Director General of Police K Rajendra to ascertain the reasons behind the release of 44-year-old man.
His release came after the newly formed J&K government's order to release political prisoners who do not face criminal charges.
A senior police official said that Alam's release will be great security risk and threat to the peace in Jammu and Kashmir.
According to the officer, Alam is more stronger and powerful leader than Syed Ali Shah Geelani and has huge cadre in stone-pelters and youth.
Meanwhile, the BJP has accused the PDP of violating the coalition the common minimum programme (CMP) by releasing an anti-national leader.