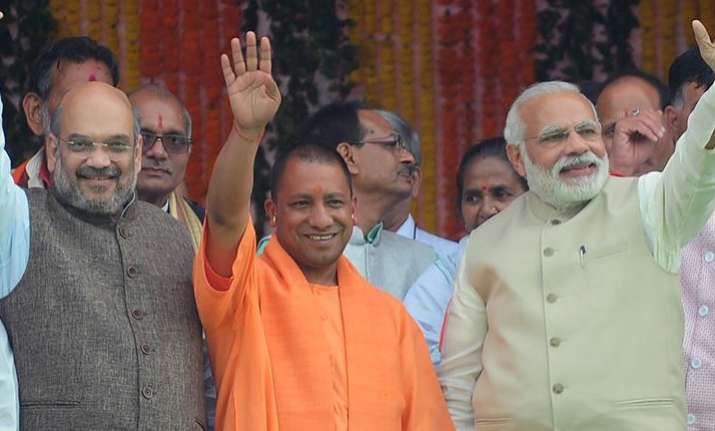 The resounding victory for the Bharatiya Janata Party in Uttar Pradesh Assembly elections came as a seal of approval for the popularity of Prime Minister Narendra Modi and his pro-development agenda. The appointment of 'Hindu hardliner' Yogi Adityanath as the state's Chief Minister, however, hasn't been mentioned in the same breath as the PM's promise of progress.
Regardless, the first week in office for new UP CM Yogi Adityanath has been action-packed to say the least. Yogi hit the ground running on the saffron party's poll promises that included tightening law and order, security, cracking down on illegal slaughterhouses and the formation of anti-Romeo squads to check eve-teasing incidents across the state. While some measures have been welcomed, some have faced criticism.
Yogi Adityanath knows he has been given a tight rope to walk on – on the one hand is the PM's development agenda that has yielded good results for the party in the elections and on the other is his own image of a firebrand Hindutva face that he would like to hold on to. In the week that has gone by, Yogi Adityanath has tried to strike a balance on his part – evident from his proactive decisions and surprise checks. There are also signs that he could well be adopting the same model of governance and functioning that Narendra Modi took to soon after becoming the Prime Minister.
Here is a look at 5 decisions by Yogi Adityanath that show he is walking in Modi's footsteps:
Transparency: Ministers and officials to declare assets
On his first day as CM, Yogi Adityanath directed all ministers and senior bureaucrats and officials to furnish details of their income and assets within 15 days. The decision takes cue from Prime Minister Narendra Modi's push for transparency that sees all central ministers report full details of their assets to the PMO which then puts it up on its website.
Clean India: The 'Swachata' pledge
In his first meeting with the top bureaucrats of the state, Yogi Adityanath administered an oath of cleanliness to the officials. The Chief Minister has called for strict implementation of the cleanliness drive, a move that has seen officials, and even ministers, brandishing brooms and cleaning up their official premises. One cannot help but find the resemblance to a similar pitch by the PM when he took office. Several central ministers could be seen wielding brooms and cleaning up.
Performance: Biometric attendance
Yogi Adityanath's stated focus as Chief Minister is on performance and the past week has shown that he means business. Be it his surprise visits or official directives laden with tough deadlines, the state bureaucracy should know well that they need to be on their toes all the time. Yogi has asked all officials to pull up their socks and be ready to serve 18-20 hours on a daily basis and has also ordered installation of biometric attendance machines at all offices. The move also takes a leaf from PM Modi's early days in office where he introduced this measure for all central government offices.
Monitoring: Babus to give Power Point presentations  
That PM Modi likes his presentations crisp and clear is no hidden secret. The idea is to ensure efficiency in thought and action and also to hold officials accountable for performance. PM Modi regularly asks all departments for Power Point presentations on their past work and future plans. Yogi Adityanath too has taken a leaf out of the PM's methods and asked all departments for power point presentations on their functioning.
Vision: 100-day agenda
Soon after taking office as the Prime Minister, Modi's ministers and officials set out on preparing a 100-day agenda for the government. That plan, however, was shelved as the government set out on implementation of its five-year agenda. CM Yogi Adityanath again borrowed this concept and has started to work on a 100-day agenda.
Modi's decisions to revamp the style of functioning of the government has brought about significant change in ministries and departments. Officials know they can no longer take authority for granted and this message has percolated from top to bottom. While it is too early to judge the impact of Yogi Adityanath's decisions, the similarity in the measures announced by him to Modi's style of functioning is apt.
Observers who have been quick to pit Yogi Adityanath as a possible claimant to the top spot in national politics may see these decisions with the same eye. For the others, good governance – be it pushed by ambition or an obsession with efficiency – shouldn't really matter.