Follow us on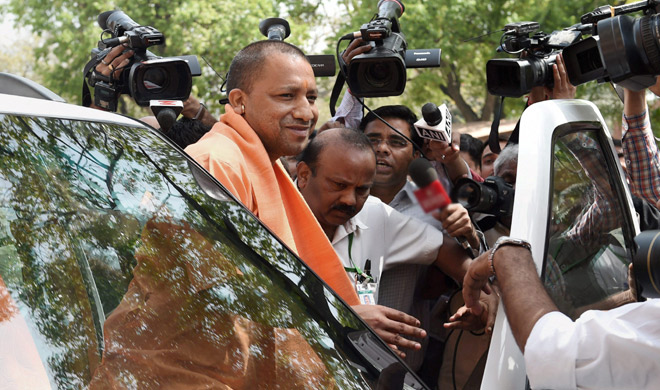 In a clear attempt to bring about a change in the functioning of the state government machinery, Yogi Adityanath has led the charge with 50 decisions in the 150-odd hours since he assumed office as the new Chief Minister of Uttar Pradesh last Sunday.  
Within a week of assuming office, Yogi Adityanath has been in the limelight for being in action. Many of his decisions have turned into national issues -- be it his crackdown against illegal animal slaughter or formation of 'anti-Romeo' squads – but the Yogi government has sent a strong message that it means business. 
Also Read: 'Anti-Romeo' drive backfires: Three UP cops suspended for detaining couple    
The government claims that the crackdown on illegal slaughterhouses has checked unhygienic conditions in dense market places, the anti-Romeo squads have drastically reduced the cases of eve-teasing. However, both decisions have also come in for some criticism. While meat traders have called for a strike on what they perceive as a crackdown on the business instead of operators functioning illegally, the decision to form anti-Romeo squads have also been criticised for moral policing.
Also Read: Protesting CM Adityanath's crackdown, UP meat sellers go on indefinite strike
On the other hand, some other decisions like banning of pan masala and polythene in government offices, announcing Metro rail project in Allahabad, Meerut, Agra and Gorakhpur, and directing the authorities to make all state roads pothole-free by June 15 have drawn much appreciation from the public. 
CM Adityanath has directed officials to replace contractors of criminal background with those who have a clean record. He also directed ministers and directed officials not to take files home and rather finish the work during office hours. 
In an attempt to increase strength of women police personnel in the state, Adityanath has directed one female and one male police personnel to be present at the reception of each police station.  
Other decisions include reviewing of security arrangements given to political leaders, installation of CCTV cameras at government offices and proper drinking facilities at every police station.
The grant for Mansarovar pilgrimage has been increased from Rs 50,000 to Rs 1 lakh, along with directions for construction of Mansarovar Bhavan near New Delhi for pilgrims.
He has also promised an uninterrupted supply of electricity to devotees during Navaratara and Ram Navmi.
Cracking down on the VIP culture in the state, the CM has ordered that no minister in the state will be allowed to use the red beacons atop vehicles. A similar move was approved by Punjab CM Amarinder Singh after he took oath as CM.
On the second day of assuming office, Cm Adityanath had directed senior administrative and police officers to effectively monitor social media for timely police intervention in incidents that could disrupt communal harmony in the state. He also appealed to all officials to change their outlook towards treating women and sought zero tolerance in matters related to women's security.
He had also asked all ministers to disclose their incomes within the next 15 days and submit the details to the CM secretariat and the BJP office.
Adityanath recently directed teachers employed in government schools to not wear T-shirts while working on the job. He also asked them not to unnecessarily use cell phones, unless it was required.
On Sunday, Yogi Adityanath gave out a stern message to the anti-social elements and criminals in the state.
"There is no place for those who give patronage to the goonda elements, mafia, criminal and other rogue elements. They have the option of leaving UP or else they would land in places designated for them (jails)," he said, while hinting at massive revamping of law and order.
Also Read: Those who give patronage to criminals have the option of leaving UP, says CM Adityanath
Underscoring the need for improved work culture, the Uttar Pradesh chief minister also said people who were prepared to work for 18-20 hours a day are "most welcome" to join him, the rest are free to leave.
"Time has come that we should work 18-20 hours a day. There no time for any entertainment (mauj masti)," he said.