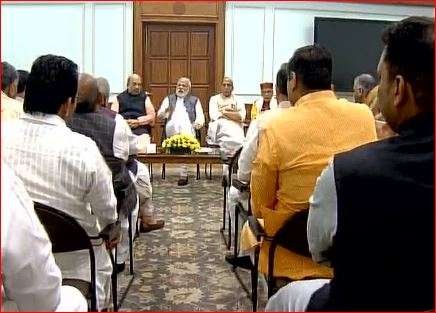 Prime Minister Narendra Modi today met BJP MPs from Uttar Pradesh over breakfast and advised them against getting involved in transfer-posting of officers in the state, according to India TV sources.
The Prime Minister is also believed to have asked the BJP MPs not to put unnecessary pressure on officers and police personnel and allow the administration to work freely.
According to India TV sources, the Prime Minister also made it clear that those who are involved in wrongdoing should be ready to face the consequences. 
Stressing on the need for good governance, PM Modi said that it should be adhered to even if it benefits opposition parties. 
The Prime Minister was meeting BJP MPs for the first time after the party formed the government in the state.
PM Modi lauded the MPs  for working hard to ensure a spectacular victory for the party in the state Assembly elections.
The breakfast meeting, held at the official residence of the Prime Minister, was also attended by BJP President Amit Shah, Union Finance Minister Arun Jaitley and former party president Murali Manohar Joshi.