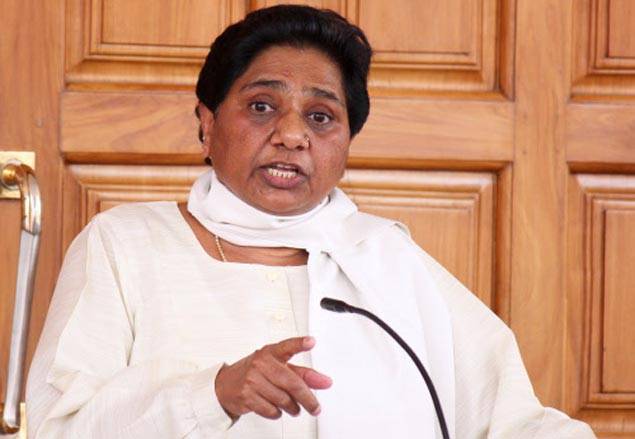 Bahujan Samaj Party (BSP) supremo Mayawati today said she will resign from the Rajya Sabha today as she was not allowed raise the issue of Saharanpur riots, which occurred in Uttar Pradesh earlier this year. "It is a shame that I was not allowed to raise the issues of weaker sections in the House. If I can't raise these issues, I have no right to be here," she said. 
According to news agency ANI, after walking out of the Rajya Sabha, Mayawati addressed the media and said, that she "will resign from Rajya Sabha today."
"This is the reason I have decided to quit from the Rajya Sabha. I am not being heard, not allowed to speak," she said. 
Before walking out of the Upper House on the second day of the Monsoon Session, Mayawati raised the issue of Saharanpur violence and criticised the Yogi Adityanath-led state government for its handling of the matter. 
The Dalit leader went on to accuse the BJP of being anti-Dalit and anti-minorities. "Since the BJP has come to power, there has been atrocities on Dalits, minorities starting from Rohith Vemula in Hyderabad, then the cow vigilantes," she said.
Earlier, Mayawati while elaborating on the incidents in Saharanpur, said the Dalits had agreed to the district administration's order not to take out any procession or install a statue of Bhim Rao Ambedkar on April 14. But the followers of Maharana Pratap however took out a procession on May 5, she said. 
Before she could complete, Kurien asked her to sit and called the next speaker, saying "you cannot monopolise", angering Mayawati. 
She also accused the saffron party of EVM tampering in the high-stakes Uttar Pradesh Assembly election held earlier this year. 
However, she was interrupted from speaking as she completed her stipulated time of three minutes. This infuriated Mayawati and when her repeated demands to be allowed to speak went unheard, the BSP leader staged a walkout. 
BJP leader Mukhtar Abbas Naqvi said, "Mayawati has been disrespectful in the House and has dared to challenge the Chair. She must apologise."
After the former UP chief minister walked out, opposition parties raised slogans and disrupted house, forcing an adjournment.
Today is the second day of the monsoon session of Parliament. The opposition parties have said they'll raise issues like cow vigilantism, unrest in Jammu and Kashmir, and the India-China standoff in Dokalam. Top Congress leaders had called a meeting yesterday to discuss a strategy.
The House was adjourned and will reconvene at 2 pm.