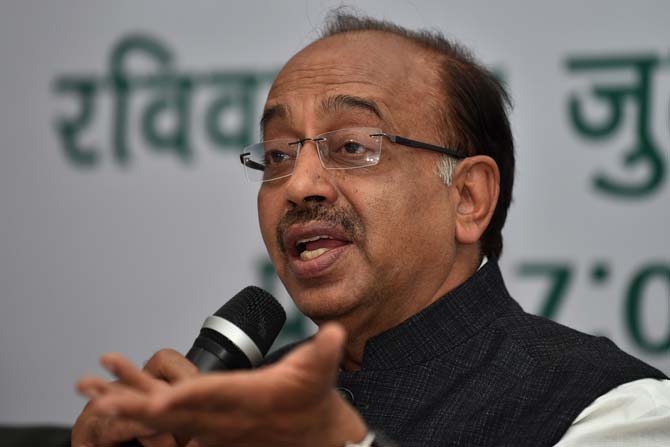 Soon after facing flak for taking selfies at the recently-concluded Rio Olympics where Indian athletes were having a tough time, Sports Minister Vijay Goel is in the news once again as he referred to Sakshi Malik and PV Sindhu as 'gold medallists', even though they'd won bronze and silver respectively.
A video was posted by ANI today which showed Mr Vijay Goel calling the two as "gold medallists".
#WATCH "Rio Olympics gold medallists PV Sindhu & Sakshi Malik met PM Modi today," says Sports Minister Vijay Goelhttps://t.co/5LiKwExkv7

— ANI (@ANI) August 28, 2016
For 'creating history' on his own, Goel got trolled on Twitter.
Here are some epic twitter reactions on his remark:
How did we end up winning two gold medals acc to @VijayGoelBJP ? All you do is heat silver & bronze and mix. pic.twitter.com/O146KyiyzB

— Aravinda Tegginamath (@arvindtm) August 28, 2016
India left USA behind winning medals in Rio.will be next statement by Vijay Goel

— Nazeer🇮🇳 (@Nazeer_7) August 28, 2016
Sports Minister with zero knowledge of Sports! What should I call this :-SS@HasanSafin @DrKumarVishwas @aartic02 https://t.co/yuKMbeofNO

— Nihal Kirnalli (@NihalKirnalli) August 28, 2016
Goel later clarified that it was just a slip of tongue and nothing else.
"I wanted to say medallist but ended up saying gold medallist and anyway, who knows we might bag a gold medal in the coming years," he said.
Earlier, the behaviour of Goel and his staff had miffed Rio Olympic organisers who had threatened to ban him and his entourage.
The Olympic organisers had warned to cancel his accreditation if unaccredited people accompanying him did not end their "aggressive and rude" behaviour.
Goel had earlier tweeted the wrong picture of an athlete with a different name and had also misspelled Dipa Karmakar's name on Twitter.
Many were even more amused when on Sunday, he posted a picture of him with actor Suniel Shetty and claimed that he discussed "constructive steps for the encouragement & development of Sports in India" with him.
Met @SunielVShetty, discussed constructive steps for the encouragement & development of Sports in India. pic.twitter.com/PtmWiFcJQf

— Vijay Goel (@VijayGoelBJP) August 28, 2016