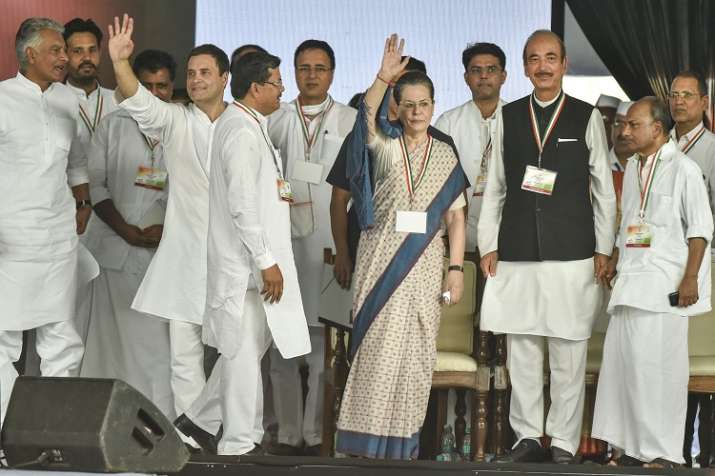 Congress president Rahul Gandhi on Sunday launched his party's campaign for the 2019 Lok Sabha elections through a mega rally organised at Delhi's Ramlila Maidan. Rahul Gandhi not only used the stage to kickstart his party's preparations for the big electoral test next year but also launched a blistering attack on Prime Minister Narendra Modi. 
Speaking infront of a handsome crowd, Rahul Gandhi accused PM Modi of being "hollow" and speaking "lies" and said the "chowkidar" was silent on issues concerning judiciary, women's safety, Dalits, youth, farmers besides corruption.
In his nearly 30-minute speech, the Congress president said that the PM's recent trip to China was 'agenda-less' and slammed him for not speaking in Parliament on issues like Rafale jet deal with France  or unemployment.
"Modi ji did not speak a single word on Doklam during his visit to China. What kind of prime minister is he," Rahul Gandhi asked.
Expressing confidence of winning the upcoming Karnataka Assembly elections, Rahul Gandhi said that the Congress would win the next year's general elections as well as all Assembly elections scheduled to be held before it.
Citing the Congress's spirited performance in Gujarat, Gandhi said "you see what will happen in Karnataka".
Also Read: Rahul Gandhi at 'Jan Aakrosh Rally': Highlights
Gandhi claimed the Congress united all sections of society and spread love in 70 years unlike the BJP, which allegedly attacked Dalits and minorities. 
Gandhi charged that farmers were under stress, but their loans were not written off by the government, which, he added, waived of debts of corporate houses.
"I met him on the agrarian issues. But he did not listen to us," the Congress president said.
Watch: Rahul Gandhi addresses 'Jan Akrosh' rally in Delhi
PM Modi betrayed people: Sonia
UPA chairperson and former Congress president Sonia Gandhi also used the occasion to slam PM Modi while accusing him of "betraying" the people by not keeping its promises. Sonia Gandhi alleged that corruption has taken 'deeper roots' since BJP came to power. 
"What happened to Modi ji's slogan 'Na khaunga, na khane dunga' (would not take bribes, nor let anyone do so) as the roots of corruption have become deeper under his watch," she said. 
Continuing her tirade, Sonia charged the BJP-led NDA government of muzzling dissenting voices and dividing communities with an eye on electoral gains.
 
"For all of us, the country is passing through a sensitive phase and we need to take it seriously. That is why I want to tell you to remain alert," she said.
Speaking during the rally, former PM Manmohan Singh said that the Modi government is consistently undermining country's Constitutional institutions. 
"The manner in which the Modi government is functioning, it can also pose a threat to democracy in the country. In the last few days, what happened in Indian Parliament is before the people of the country (to see)," Manmohan Singh said.
"The manner in which the Modi government is functioning, it can also pose a threat to democracy in the country. In the last few days, what happened in Indian Parliament is before the people of the country (to see)," he said, addressing the 'Jan Akrosh Rally' at Ramlila Maidan today. 
Amit Shah's stinging response
Soon after Congress' 'Jan Akrosh' rally, BJP president Amit Shah responded to Rahul, Sonia's charges in the same vein and termed the rally as 'Parivar Akrosh rally' (family wrath rally) in what was an apparent dig at the party's dynastic politics.
In a series of tweets, Amit Shah described Congress as power hungry and demanded answers from the opposition party for not letting the Parliament work during the Budget session.
"A dynasty and their courtiers, who were sent out of state after state by 'Jan Aadesh' now pretend to represent 'Jan Akrosh.' Today's Congress rally is nothing but a 'Parivar Akrosh Rally' which highlights their increasing irrelevance," Amit Shah said.
Watch: Kurukshetra - Will 'Aakrosh' help Rahul Gandhi win in 2019?
"If the Congress really wants to know why is there Jan Akrosh, they should answer in today's rally why did they disallow Parliament to function. They should answer why has the Congress prevented the formation of an OBC commission that gives justices to backward sections?" the BJP president added.
Union minister Ravi Shankar Prasad also ridiculed Congress' rally as mere election stunt. "It was actually a 'Kursi ki lalach ki rally (rally for the greed of power)'. Rahul Gandhi would not have talked about Congress' chances of winning forthcoming polls if there were no elections around," Prasad said.
(With inputs from agencies)