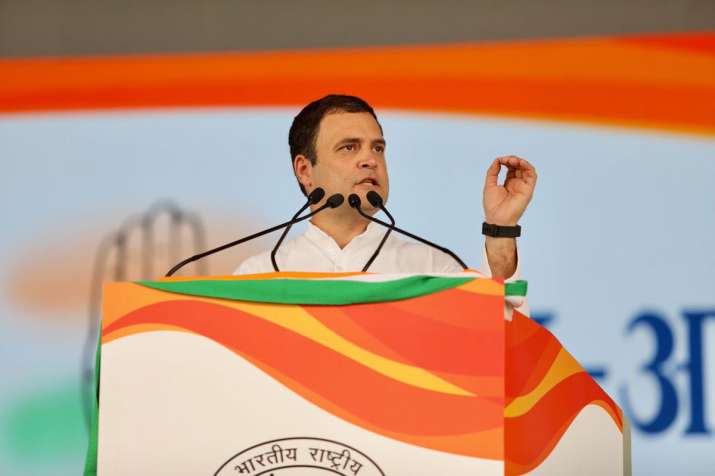 Top Congress leadership including chief Rahul Gandhi and Sonia Gandhi addressed 'Jan Akrosh Rally' in New Delhi's Ramlila Ground today. Congress organised the rally to showcase what it called the "public outrage" over the failures and corruption of the Modi government. The 'Jan Aakrosh Rally' was Gandhi's first in the national capital since assuming the top party post.
A large number of Congress supporters were present at the rally ground. 
The issues related to farmers, women, national security, and "impropriety" of Railway Minister Piyush Goyal, Vyapam scam of Madhya Pradesh, CBSE paper leaks and mining issues were raised at the rally.
Here are the Highlights: 
Watch video: 
#Congress chief Rahul Gandhi
12:40 pm: The Congress will win every election from now on and will also emerge victorious in 2019: Congress Presiden
12:35 pm: I respect differences of opinion and will protect any dissenters. However, the BJP neither appreciates different opinions nor does it respect its own elders: Congress President 
12:28 pm: The BJP & RSS have spread falsehood about the Congress across the nation. But the truth is now making its way out and people can see through their lies: 
12:26 pm: The Chinese are aggressively pursuing militarisation in Doklam. Despite this, all that PM Modi does is hold a "no-agenda" meeting with the Chinese President: 
12:25 pm: Atrocities against Dalits have drastically risen under PM Modi but he hasn't spoken a word about this yet: Rahul Gandhi
12:22 pm: PM Modi says "Beti Bachao Beti Padhao". Ironically, the members of his own party are assaulting women: Congress President
12:22 pm: Only the Congress Party can support the farmers of India and protect their interests: Rahul Gandhi
12:21 pm: I met PM Modi myself and asked him to waive off farm loans. He refused and said that waiving off farm loans is not their policy: Rahul Gandhi
12:20 pm: The RSS is slowly taking over our democratic institutions and destroying them from within while PM Modi watches silently: Congress President
12:19 pm: Under PM Modi, for the first time in the history of our country, Supreme Court judges have had to reach out to people for justice: Congress President
12:18 pm: PM Modi snatched away the Rafale deal from an experienced PSU like HAL and gave it away to an inexperienced private entity owned by his friend: Congress President
12:17 pm: Union Minister Piyush Goyal makes dubious business deals benefitting companies linked to him through his position. However, PM Modi doesn't utter a single word on this : Congress President
12:15 pm: When PM Modi speaks, people have to search hard for shreds of truth within his speeches: Congress President
12:13 pm: India is a country of many faiths and religions. The foundations of every faith are based on truth. When we bow our heads to Gods, we bow our heads to the truth: Congress President 
12:10 pm: I interact with many people around the country. Whenever I ask them if they are happy with the Modi Govt, the reply is a resounding NO: Congress President 
12:10 pm: Rahul Gandhi at 'Jan Aakrosh Rally' LIVE: 'Indian people not happy with Modi govt'
12:10 pm: Rahul Gandhi begins his address amid loud cheers from Congress workers
#Former PM Dr Manmohan Singh
12:09 pm: Our democratic institutions are under attack. Parliament is not being allowed to function & legislation is being bulldozed. Our democracy is in danger & we must all work together to protect it: Former PM Dr Manmohan Singh
12:08 pm: Prices of fuel are rising in India despite low international crude oil prices. This price rise has greatly distressed the people of the country: Former PM Dr Manmohan Singh
12:07 pm: Unemployment is on the rise and the youth of the country are distressed. Students taking loans for education are wondering how they will repay these loans if they do not get jobs: Former PM Dr Manmohan Singh
12:06 pm: The Modi Govt's anti-farmer policies have resulted in an unprecedented agrarian distress in the country. Our farmers are demanding justice from the Modi Govt: Former PM Dr Manmohan Singh 
#UPA chairperson Sonia Gandhi
12:05 pm: Modi ji had said 'na khaunga na khane dunga'but corruption has increased. Aaj desh mein asatya aur anyay ka bolbala hai. Whoever raises voice has to bear the brunt of Modi Govt's anger: Sonia Gandhi
12:04 pm: I am confident that the anger you have voiced here today has reached every corner of India: Sonia Gandhi
12:03 pm: Under the leadership of Congress President @RahulGandhi, let us all pledge our commitment to the cause of saving our nation from the violent and hateful forces that are destroying India: Sonia Gandhi
12:02 pm: Our country is going through a difficult time. We must all unite and stay alert to fight against this regime: Sonia Gandhi 
12:02 pm: It is saddening to see that our society is suffering from unprecedented violence and hatred today. People from every section of society are suffering. The nation is going through turbulent times under PM Modi: Sonia Gandhi
12:02 pm: The Modi Govt has left no stone unturned in destroying our democratic institutions:  Sonia Gandhi
12:01 pm: All promises made by PM Modi when he came riding in to power have turned out to be hollow:  Sonia Gandhi
12:00 pm: Sonia Gandhi attacks PM Modi, says women, farmer and common men suffering, urges supporters to raise their voices against 'attrocities'
11:50 am: The party's former President Sonia Gandhi, former Prime Minister Manmohan Singh, Leader of the Opposition in Rajya Sabha Ghulam Nabi Azad and other leaders will address the rally. 
11:40 am: "We are holding this rally to represent the emotions and turmoil that every citizen of the country is going through," said Gehlot, a former Rajasthan Chief Minister.
11:30 am: "The rally will aim to bring overall change and awakening in the country... it will represent the outrage of the farmers, price rise, women security, and corruption occurring right under the nose of Prime Minister Narendra Modi," Surjewala said.
11:20 am:
मोदी सरकार के चार साल-युवाओं को रोज़गार नहीं, महिलाओं को सुरक्षा नहीं, किसानों को सही दाम नहीं, दलितों-अल्पसंख्यकों को अधिकार नहीं। इस निराशा से फैले भारी आक्रोश को प्रकट करने के लिए कल सुबह 9:30 बजे रामलीला मैदान में "जन-आक्रोश रैली" में शामिल हों।

आपके सहयोग की अपेक्षा रहेगी। pic.twitter.com/a9kYO72s0r

— Rahul Gandhi (@RahulGandhi) April 28, 2018
11:10 am:The Delhi Pradesh Congress Committee (DPCC) chief Ajay Maken yesterday told media that around one and a half lakh to two lakh Congress workers are expected to participate in the rally. "Full preparations have been made for the Jan Aakrosh Rally to be addressed by Gandhi. Delhi will sound the bugle for Rahul Ji's triumphant journey to the 2019 parliamentary elections," Maken said in the statement. 
11:00 am: Delhi has seven Lok Sabha seats. In the last elections in 2014, the BJP had won all seven seats, as it stormed to power at the Centre putting to an end the 10-year rule of Congress. He said 14 water dispensing stalls has been setup for the rally taking into consideration the prevailing hot weather.  Maken said proper arrangements have also be made for the parking of vehicles coming from Delhi and outstation areas, and various committees have been formed, who have been meeting regularly.