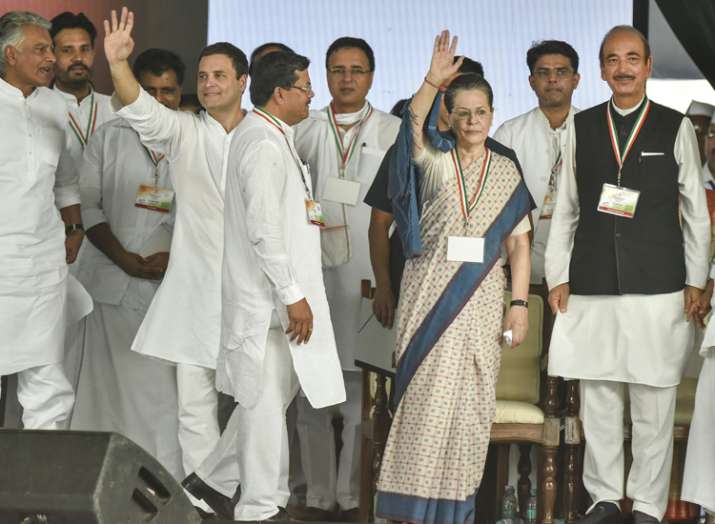 The Congress on Sunday sounded the poll bugle for 2019 Lok Sabha elections by launching an all-out attack on Prime Minister Narendra Modi and his Bharatiya Janata Party (BJP). Addressing a huge rally which the party named - Jan Akrosh rally - at Delhi's Ramlila Maidan, Congress president Rahul Gandhi launched a frontal attack on PM Modi and accused him of destroying every institution of the country.
Questioning PM Modi's 'silence' over various issues, Rahul Gandhi said the PM did not speak on Doklam during his recent tour to China.
"Modi ji did not speak a single word on Doklam during his visit to China. What kind of prime minister is he," Rahul Gandhi asked triggering a huge response from the crowd.
"Prime Minister Modi gave unemployment, 'Gabbar Singh Tax' (the term the Congress coined for the Goods and Services Tax to target the government), BJP MLA inflicted atrocities on women (Unnao rape case) in his tenure," he added.
Rahul expressed confidence that the Congress will win the 2019 Lok Sabha election and Assembly elections to be held in  Karnataka, Rajasthan, Madhya Pradesh and other states.
Rahul Gandhi at 'Jan Aakrosh Rally': Highlights
UPA chairperson and former Congress president Sonia Gandhi also launched a blistering attack on the PM and said that he duped the people of the country by making tall promises in 2014. "All promises made by Modi have turned out to be hollow.
Modiji had said 'na khaunga na khane dunga' (I won't take bribes, nor will I let others take bribes). But corruption has increased," Sonia Gandhi said.
"It is sad to see that our society is suffering from unprecedented violence and hatred today. People from all sections are suffering. The nation is going through turbulent times under Prime Minister Modi. Our country is going through a difficult time. We must all unite and stay alert to fight against this regime," she said adressing the rally which was attended by the party leadership, including veteran leaders like former PM Manmohan Singh, Punjab CM Captain Amarinder Singh, former CM Sheila Dikshit, Ghulam Nabi Azad, P Chidambaram, AK Antony and others.
Watch: What Rahul Gandhi said at 'Jan Akrosh' rally